Back in the day, the coming of age of a youngster often meant passing down one of the most treasured family heirlooms –a luxury timepiece. That means if you were a young boy or girl on the threshold of adulthood in the better half of the 20th century, you probably got an old piece of metal… (Pardon the crudity, I've got nothing against vintage watches, they're epic in every regard). But today's youth is quite different –in their values, personalities and lifestyles. The urban youth is all about the fast and the furious, living life at a rate of 100, and they need a watch that can match their pace.
Enter TAG Heuer watches–the gear of choice for the tech-savvy and fashion forward generation of today. Tastefully designed keeping the urban youth in mind, Heuer's timepieces are high-end, high-fashion and high-tech, all in one. Today, you don't need to wait for your 'coming of age' to get a luxurious time piece, all you need to do is check out authorized TAG Heuer watch stores online such as Ethos Watch Boutiquesand embrace your youth with TAG Heuer.
Aristotle famously said that good habits that are formed at youth make all the difference. I'm going to add my own little dose of philosophy to the mix and rephrase it to:good habits and a taste for luxury timepieces,formed at youth make all the difference. So, let's go ahead and harness our youth to change the world, shall we? Here are some of my favorite TAG Heuer watches that offer stimulating designs and greater functionalities, perfect for Gen Y:
TAG Heuer Connected SAR8A80.FT6058
Topping the list is the TAG Heuer Connected. Looks like a fairly normal watch, doesn't it (or at least as normal as luxury watches go)? Wrong.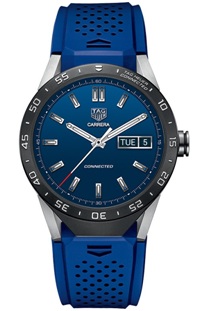 This isn't just a regular old watch –it's the watch of the future, a smartwatch. Check out this video for a better look (but grab yourself some soft padding for your jaw, cause it's about to drop so hard!).Tech brands like Apple and Motorolamay have launched their own smartwatches, but here's a first from the fine watch-making industry –a breath of fresh air to the traditional practices that we're sure loving. And you've got a whole selection of bright and vibrant colours to choose from.
Merge the excellence of Swiss watch-making and the technological capabilities of the Silicon Valley, and you have the perfectTAG Heuer watches for the youth. Digital, durable, and definitively disruptive!
TAG Heuer Carrera CV2116.EB0017
How about a little denim for a playful and youthful charm? This Carrera model takes the youth's signature fabric, adds in a bit of glitz with a ring of diamonds around the dial, and churns out a funky feminine beauty. I don't know about you, but I'm definitely sold on the diamond & denim drift!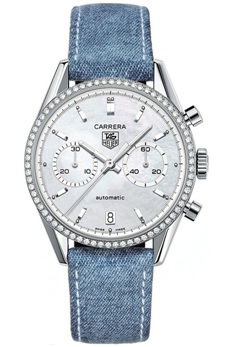 TAG Heuer Formula 1 CAH1212.BA0862
Sleek, sharp andsassy!Each element here shouts a different style: the diamonds ooze luxurious opulence, the black ceramic dial evokes a bold confidence, the steel links inspire timeless elegance, and together… This Formula 1 model sings a perfectly harmonised symphony of sophistication in watch-making.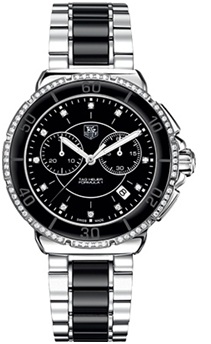 Kudos, TAG Heuer watches, on this intriguing creation that's sure to get the youth racing. It's a great choice for both young men and women to cut a dashing figure and turn heads wherever you go.
TAG Heuer Carrera CAR2015.FC6321
Here's an understated selection for the kind of guy who's taken the challenges of youth breezily in his stride. The colour palate with its browns and creams gives it a fresh and energised appeal. Sapphire crystal casings, a hardy leather strap and special rubber seals for greater water resistance up to 100m, ensure protection against all odds, making it also a great choice for the adventurous folk.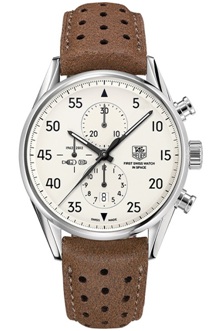 TAG Heuer Link CJF1310.FC6189
As the elegant white strap meets the whopping 200-metre water resistance, the worlds of fashion and sports converge beautifully in this TAG Heuer watch. Petit, practical and pretty –this one's the perfect kind of functional accessory that young women love today. The compact and slim form also makes it lightweight, almost melting into the skin, to remain an effortless part of you.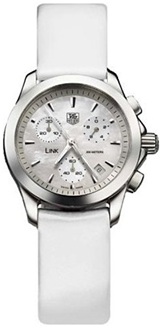 TAG Heuer Aquaracer WAY201A.BA0927
Leaning on the traditional side with its stainless steels links, this one's a true gentleman's choice, with a modernistic edge. The sharp contours easily suitthe style of today's young man.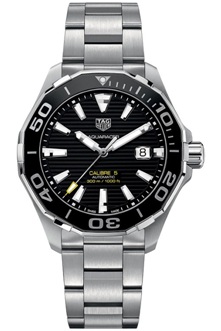 TAG Heuer Grand Carrera CAV518B.FC6237
The brilliant streaks of red immediately draw your attention and you're in for the ride of a lifetime if you don this powerful piece of machinery. It's made for the kind of people who're not just adventurous but borderline dangerous. Strap on and power up your youth with this beautiful beast!