Motherhood is undoubtedly a heavenly feeling but you may have to sacrifice on sleep to experience it. About 80% mothers have to give up on their sleep for two years from the day the apples of their eyes are born. Only 20% lucky mothers are blessed with babies following the regular sleeping pattern and rarely waking up at night for feeding. I fall into the majority category, and only then I realized the importance of sleep and the real meaning of the phrase "sleeping beauty". So I want to share with you 10 tips to sleep better during night for sound health and flawless skin. You might already be able to relate with most of these tips, so now it's only a matter of implementing them consciously.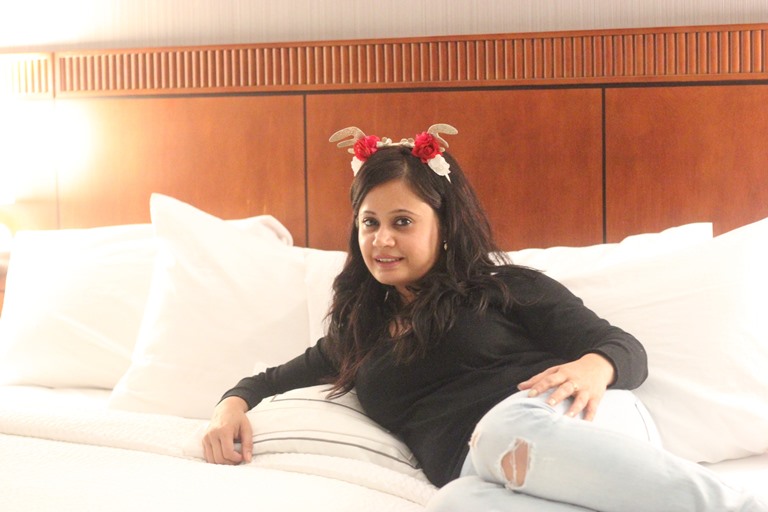 Change your sheets and pillow covers: After a hectic day at work all I look forward to is hitting the bed. The cherry on cake is well made bed with clean sheets and pillows. They serve as stress busters and help me sleep sound for hours. If you have not experienced this ever, go home today and change your sheets before you hit the bed. I am sure you will be amazed with the quality of sleep you will get after making this small change.
Hot shower: Nothing beats a hot shower at the end of the day. It takes off all the exhaustion making me feel utterly relaxed. Some times when I have more time, I like to pamper myself just be sitting a couple of minutes more in the bath tub listening to the beats of Punjabi music.
Slip into comfortable clothes: I like to invest in comfortable night suits more than I do in day wear. Loose clothes aid in blood circulation. They also relax the muscles and aid in sound sleep for long hours.
Lavender Aroma: Lavender in known as a natural alternative to help you relax, unwind and let go of stress. The lavender aromatherapy has also been found to help reduce anxiety and depression. It works as a great stress reliever in women with postpartum depression. To make it work- either put the lavender oil in a diffuser or spray a few drops on pillowcase. You can also dab a drop or two of essential oil on your temples, wrists or neck before bedtime.
Eat light: It's always recommended to eat light before bedtime as that reduces bloating. Also, if it's possible take your last meal at least 2-3 hours before you sleep. More gap between food and sleep makes the digestion easier and sleep better.
Reduce liquid intake: I try to avoid liquid intake at least one hour before bedtime because if I do not do that I feel an urge to get up at midnight to empty the bladder. This interrupts the sleep both in terms of quality and quantity.
Foot Massage: I feel feet are one of those body parts that need utmost care. They carry our weight all day long and keep us going no matter what. A good feet massage at the end of the day will not help in sleeping better but will also prepare the feet for next day adventures.
No phone- This time is all about internet – specifically social media. Whether it's traveling or queuing up in clinics, I prefer utilizing (that's what I think:)) my time in interacting with others on Instagram or face book. And this habit was not restricted to free time only, even after hitting the bed I happened to find myself keep refreshing the apps to spot a new like or comment. Then one day I decided to switch off the internet at night, and believe me I never had a sound sleep like that in a long time. It got a hold on my hay wired thoughts and gave my brain more time to rest. Since then there is no looking back.
Dim the lights: Ambiance is everything. I think just like the faint lights of candle light dinner, the dim lights of bedroom will make the environment soothing and relaxing. You can also play soothing music to make the atmosphere even more calming.
Read a boring book: I love reading fiction novels but seldom do that at night these days. Reason being, I get so engrossed in the story that I tend to skip the sleep time. So what I do these days is read (or try to read) a boring book at bedtime and I find myself sleepy in no time. So I am hoping if it works for me it can work for you too. Choose a book on any uninterested topic and give it a read.
You might also like reading these related topics
Benefits Of Exercise – How Does It Affect Me!
Do you know, losing weight is as easy as playing video games at home?
Effectiveness and Benefits of Yoga in Daily Life
You must know these 5 things if you sit in front of computer for long hours!
How to maintain body weight – stay fit and healthy
How to get an hourglass figure !