Of lately, I have been doing numerous nail polish reviews. Yes, it is because I bought gazillion of them- offline and online. It is not that I have completely replaced my nail polish collection; rather some of the purchases were repeated this time as I really like those shades. The Wet n Wild Craze Nail Color in shade 231 also falls in my favorite list so this is my second bottle of the same polish. Read on to know what made me repurchase this nail polish.
My Take on 'Wet n Wild Craze Nail Color Shield 231'
Wet n wild craze nail colors come in a cute packaging which is round in shape and made of glass. The bottle is transparent so you can pretty well see the shade before even testing it on the nails. The black cap, which holds the polish applicator as well, has nice detailing in white that enhances the beauty of this cute bottle. The con of the elegant brush is that it is too wide, and sometimes it becomes difficult to establish a hold on it. Nothing too serious, but yeah you need to pay attention while you are working with it; otherwise, it might just slip away from your grip.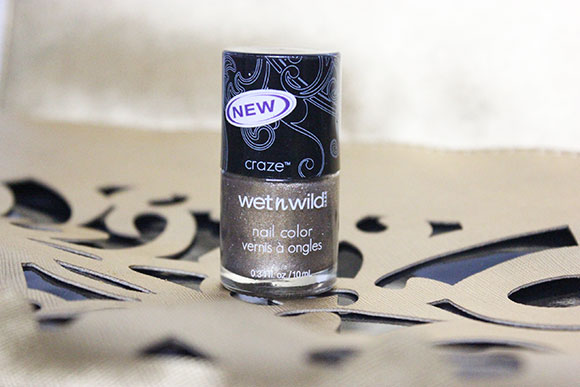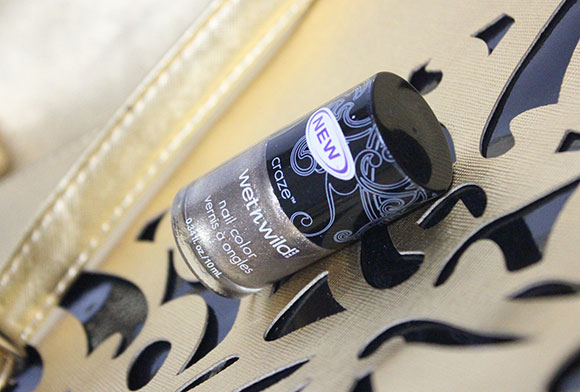 The bristles are decent sized – nothing too wide nor too narrow. I can easily cover my wide nails in just two swipes so if you have thin nails you may be done with one swipe. Plus, there is no shedding or streaking during the application, and that results in salon like finish.
This is a golden-copper(ish) shade with lots of shimmer. But that does not make it gritty, in fact the finish is super smooth and looks all shine and bright in day light. If it had been slightly matte it would have given a metallic finish. Nevertheless, I love how it makes my nails twinkle with those tiny stars on them. Moreover, this is the kind of shade that would suit all skin tones and make the hands look cheerful and upbeat.
The formula is satin based so that makes the polish glide on to the nails smoothly without getting bubbles or accumulating on the edges. It dries instantly, so by the time you finish your first coat your nails will be prepared for the second round. Because of the quick drying you do not require to sit idle for long –in 7-10 minutes you would be able to resume your chores.
It is not a sheer nail polish, and gives good color payoff in single coat. You can leave it like that but it would mean cutting down on the lasting power. Two coats provide a solid foundation and help the polish last long i.e. 3-4 days. You may experience some chipping off the tips but owing to the shade it is almost unnoticeable.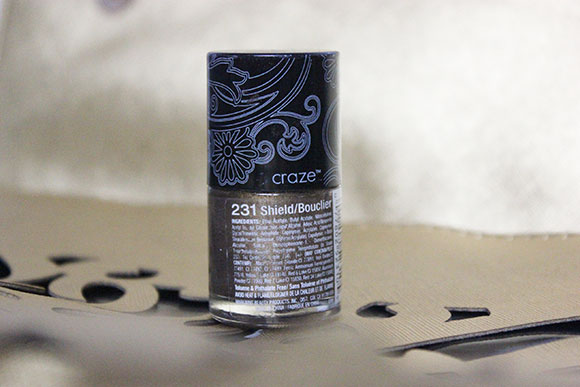 What I like about 'Wet n Wild Craze Nail Color Shield 231'
– Smooth finish without streakiness.
– Dries instantly.
– Two coats are enough for an opaque nail bed.
– Suits all skin tones.
– Affordable price.
– Good color payoff.
What I do not like about 'Wet n Wild Craze Nail Color Shield 231'
– Brush holder is too wide, poses problem in gripping.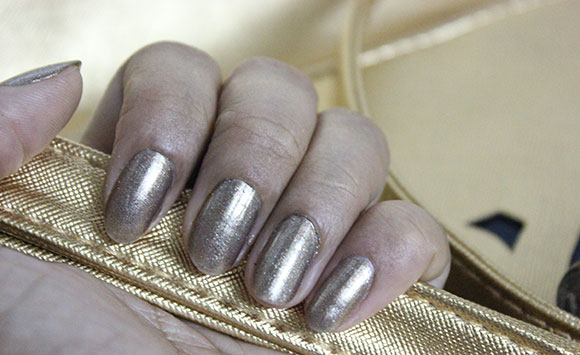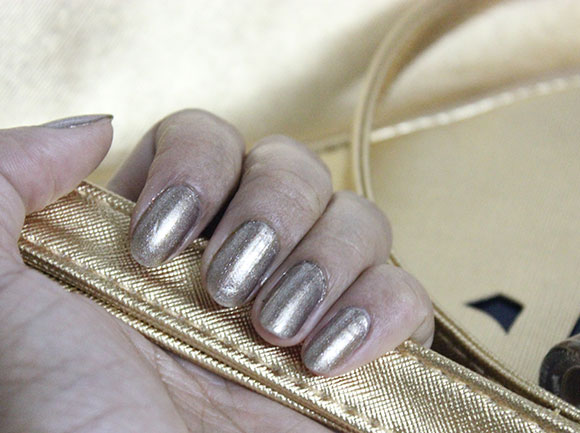 Price of 'Wet n Wild Craze Nail Color Shield 231': Around USD 2 for 10 ml bottle
BABE Rating: 4.5/5
Final Word: Wet n Wild Craze Nail Color Shield 231 is a gorgeous copper(ish) shade that would suit all skin tones. The glitter look and smooth finish make the nails stand out. As this is a quick drying nail polish so you would not require spending a lot of time for the application. In that price, it is a beneficial deal for the nail polish lovers.
You might also like reading these related topics
Wet n Wild Megalast Salon Nail Color- 213C On A Trip Review
Wet n Wild Megalast Salon Nail Color – 201C Wet Cement Review, Swatch