Hello Everyone,
I hope you all had a great Diwali. I enjoyed the most favourite festival of mine a lot. Diwali is an opportunity for me to literally shop till I drop. The best part is that my mom is the one who bears all the expenses. Another thing which I like about Diwali is that I can eat as much sweets as I want without feeling guilty. Apart from enjoying Diwali, I also enjoyed the comeback of Prem in "PremRatanDhan Payo". I am a big fan of Salman Khan and desperately wait for the weekends to watch him in Bigg Boss. Though I didn't like the movie but being a loyal Salman Khan fan, I have no complaints.
What The Product says:
Benefits of eating seaweed are one of the best kept beauty secrets that have been known for centuries in Japan. Formulated with sea-sourced active ingredients and developed under advanced Japanese technology, Spawake offers you effective yet pleasurable skincare solution to achieve healthy, glowing skin.
How it Works:
It is a gentle scrub wash enriched with Sea Minerals, Vitamin C and Vitamin B3. Its natural exfoliating grains polish away the pore-clogging impurities and dead skin cells that make the complexion dull and dark.
My Take on 'Spawake Whitening Scrub Face Wash'
I have reviewed so many products from Spawake that now I have lost the count. This time I am going to share my experience about a multi-purpose product. I am talking about "Spawake Whitening Scrub Face Wash". This is the first time that I am using a cleanser that also works as an exfoliator.
We all are aware how pollution is damaging our skin. To save our skin from this torture, we all need a good savior in our life. These saviors come in the form of cleansers, exfoliators, sun screens, etc. According to me, a good cleanser and an exfoliator plays very significant role in keeping our face healthy and problem free. It helps in removing the dead skin cells and excess oil from our face. Applying any lotion or serum on an uncleaned face will be of no use.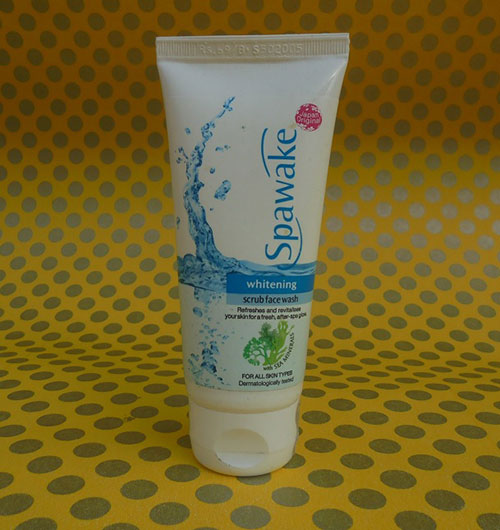 The multipurpose name of the product caught my attention and I quickly locked myself in the bathroom to give it a try. This Face wash cum Scrub comes in an opaque white tube. It has very warm floral fragrance which instantly lifts the mood. It has gel like consistency which contains mini granules for exfoliating the skin. After cleaning the face with water, I applied the face wash on my wet face. I was expecting that it will lather and produce foam but it didn't lather at all.
Though it didn't lather but still it effectively cleaned my face. My face was looking much more rejuvenated and relaxed post usage. The granule particles work very gently on the skin and make it appropriate for daily use. But these mild particles are not much effective in removing the blackheads or whiteheads. So, in case you are looking for an exfoliator to fight with those rigid blackheads, then you can't trust on it.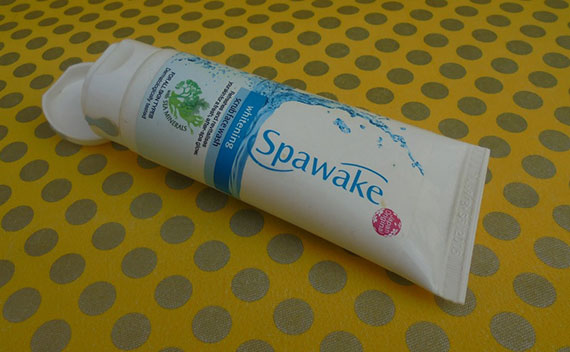 It also claims to lighten the skin tone and give a whitening effect. It does make the skin bright and fair but the effects are temporary. The fairness effect remains only for an hour after using it and slowly my skin comes back to normal.It's long and never heard before chemical enriched ingredient list gives us a reason to think twice before adding it to the cart.
What I Like about 'Spawake Whitening Scrub Face Wash'
– It contains the goodness of Sea Minerals.
– It thoroughly cleans the face.
– It gently exfoliates the face.
– Face looks bright and fair post usage.
– Pea size amount is enough for a single use.
– It is very affordable.
What I do not like about 'Spawake Whitening Scrub Face Wash'
– The effects are not at all long lasting.
– Not effective in eliminating blackheads.
– It contains parabens.
– Availability is a big issue.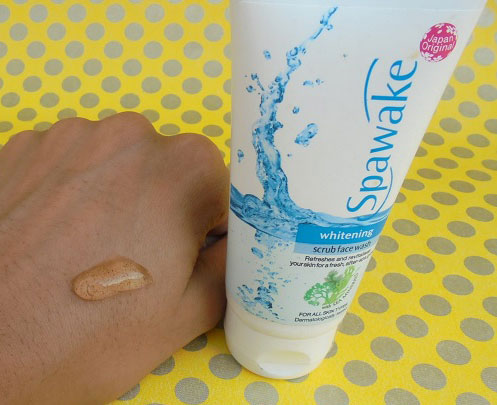 Ingredients of 'Spawake Whitening Scrub Face Wash'

Price of 'Spawake Whitening Scrub Face Wash': Rs 69/- for 50 gm and Rs 129/- for 100 gm
Shelf Life of 'Spawake Whitening Scrub Face Wash': 36 Months from the date of manufacturing
BABE Rating: 3.5/5
Final Word: Overall it's a decent face wash that also exfoliates the skin. If you are looking for a mild exfoliator for daily use, then you can surely invest in it. But if you are someone who loves using a cleanser that lathers well or you want an exfoliator to get rid of blackheads or whiteheads, then it's better to skip it.
You might also like reading these related topics
Himalaya Herbals Gentle Exfoliating Walnut Scrub Review
Lotus herbals white glow oatmeal yogurt skin whitening scrub review
Neutrogena Deep Clean gentle face scrub
Neutrogena deep clean blackhead eliminating daily scrub review