Gone are the days, when people used to sweat out to buy their stuff. More than ever, this year witnessed a benchmarking drop in shopper's footfall at physical markets. Why not? Going to these markets involve a lot of time, commuting fare, negotiation skills (at least in markets like Lajpat Nagar, Sarojini Nagar, etc)and adjustments, especially because you do not get to see what better options you have in that price. Owing to all these reasons, online shopping is the favored destination of major percentage of shoppers.
Well, if you say shopping things without seeing those raises questions on credibility of products, let me tell you that with the advent of technology and data analytics, it has become easier to improve the processes. Online marketplaces are persistently fixing bugs in order to provide hassle-free experience to users. Moreover, as user-money is involved in online transactions these platforms have to be secure and fool-proof. Not to mention, most of the giant portals have already earned faith of users in terms of credibility and quality. And that's why users prefer to hit those online portals time and again. What could be best than shopping from your trusted websites and that too at cheaper cost!
Speaking of online shopping, let me introduce you to shopalike.in. It is different from most of the existing shopping websites, and in my opinion this concept will be quite useful for shoppers. It is a place where you get to see products from numerous shopping portals and choose the ones that fit most conveniently in your budget. Whenever I have to shop online, I usually do a compare search at different online portals before buying the product. The price quotient is not always the only criteria in fact loyalty of the website also plays a significant factor in taking the buying decision. With shopalike.in, I can see the price of a product at different portals without spending time in shuffling between the web pages. A quick product search using the filter options allows users to browse the offers of thousands of online shops at one place. It does not only save time but also the burden of web-search, and because of the ever-expanding marketplace this search is becoming more complicated day-by-day. So from loyalty perspective, you still get to shop from your trustworthy websites and that too by paying the optimal price.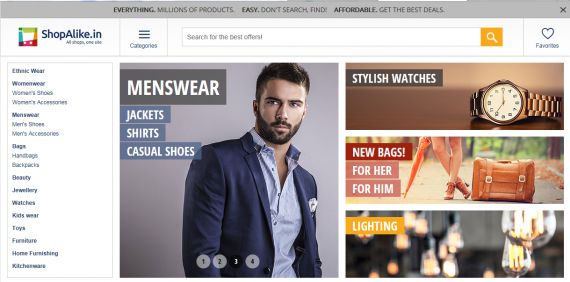 In shopalike.in's own words:
The objective of ShopAlike.in is to bring together all shops underneath one roof. We at ShopAlike.in do not act as a retailer ourselves, but instead act as an independent website which provides the infrastructure to import the products of other shops onto our site. As a result, you can find the products of all the shops on one single site: ShopAlike.in.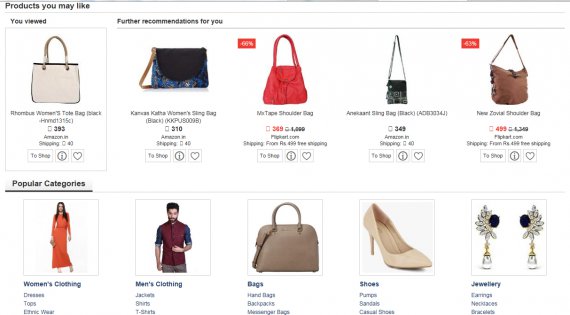 Besides clothing, shopalike.in also house beauty, shoes, bags, jewelry, watches, furniture, sports, etc. It has a comprehensive range that includes a large number of products from many online shops. To name a few, this online shopping Centre has products from amazon, flipkart, homeshop, koovs and snapdeal. And if you go by the list, these big names secure monetary concerns, if you have any.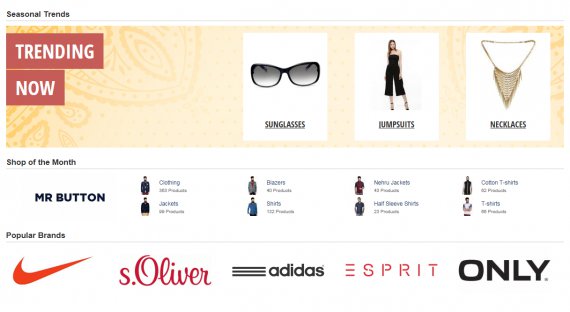 Here is a snapshot of how your search of a particular product will look like. Once you enter product name in search bar and hit the enter button, you will see that product's listing with online portal's name, link and price. Now you can click on your preferred link, and it will take you to the webiste from where you can purchase the product as you usually do. Is not this easy ?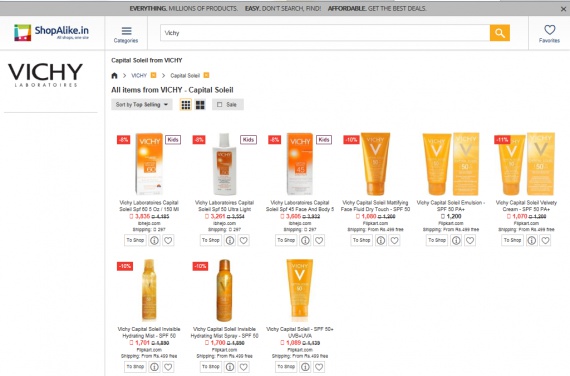 On one side, shopalike.in is making your search easier, on the other there is something you need to do as well. The website mentions there might be a case where price of a certain product has changed since last update. So all you need to do is cross-check the latest price on the specific website from where you are planning to buy the product. Though the chances are the actual price is already displayed on the website, but still I would recommend checking it once. Also, you may see some foreign shopping websites on shopalike. In. If you like something from those websites and are hesitating to go ahead with the purchase because of a different currency you should shed off the hesitation right away as the price may be calculated in your own currency based on the daily updated exchange rate.
If like me, you too are in a habit of comparing products on different websites before making a buying decision, shopalike.in has made your life easier. With all the websites/products under one umbrella, shopping has become more economical and fun.