Scholl Velvet Smooth Express Pedi Electronic Foot File Review
Hi Everyone,
We girls have so many things to catch up with that it is hard for us to get any time for salon visits. I have such a hectic schedule – five days office, blog, household chores and then weekend for photo shoots, shopping, compensating for the backlogs, so on and so forth. I am not able to take out time until the much needed visit become a dire need. For waxing, I can still manage some time but as pedicure and manicure are add-ons I hardly get any time for them. The result being dull and boring skin but with the advent of Scholl Velvet Smooth Express Pedi I can still take care of my feet without spending that much of time. I really hope they come up with another such tool for hands as well. But until they do that, go through my review of Scholl express pedi electronic file.
My Take on 'Scholl Velvet Smooth Express Pedi Electronic Foot File'
Scholl velvet smooth express pedi is an electronic file. It has a blue color handle and white front. The attached head can be covered with a transparent cover that comes along with this pack. Also, the cover ensures that the friction of the head does not get spoiled by or spoil other things around. This is a battery operated file so you may find it little heavier but nothing of the sort that cannot be fit into the luggage bag.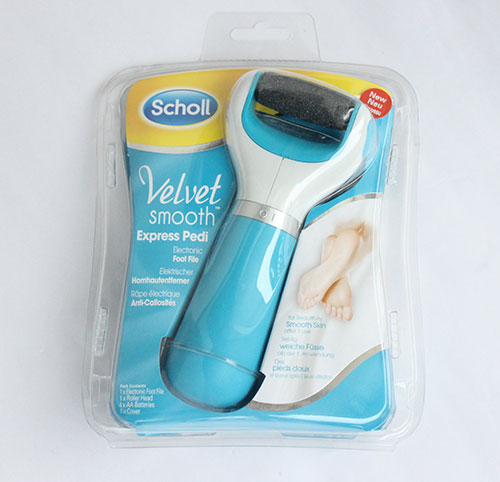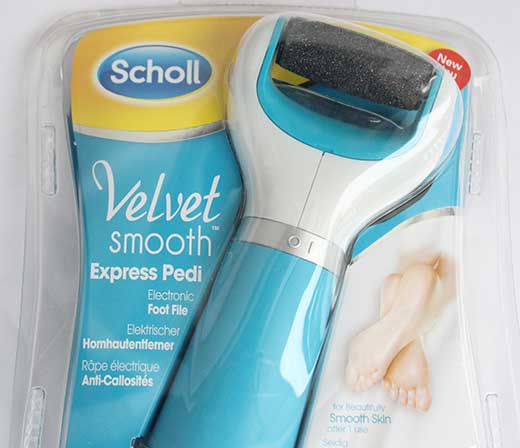 It has an ergonomically shaped soft touch handle which makes you work with it without any sweatiness or discomfort. At times my hands sweat and lose grip on the things they hold, but I have continuously worked with this handle for 7-8 minutes without losing the grip or feeling uneasiness in my hands.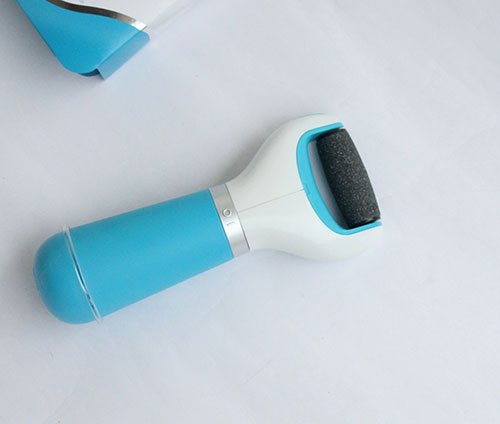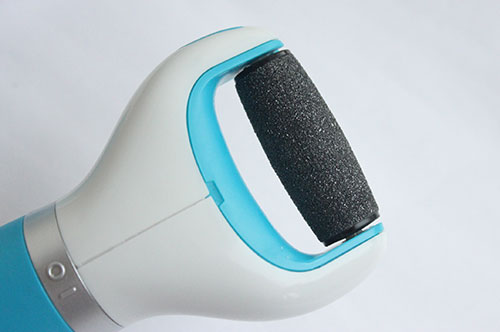 As I wear high heels and sport shoes so I have lot of hard skin primarily on the heels and on the sides of foot thumbs. So while bathing, I used to file those areas almost daily and that used to take up lot of my time. Since I have started using Scholl nail file, I no more need to invest that much time on bathing. Twice a week, I use the roller head on my hard skin and it takes care of the softness of my feet.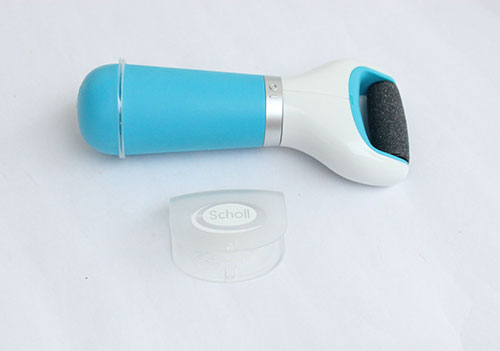 This is a battery operated foot file. It requires 4 AA batteries to show its magic. The good thing is these batteries make it my go-to foot file. I do not need to wet my feet or carry a charger before putting it to work. Plus, it is so convenient to use that I use it on my dry feet while watching TV or even reading a book.
The first time I had to use Scholl foot file, I was slightly reluctant as the head rotates at a really fast speed. I do not know what its rpm is but it rotates fast and does its job perfectly. It works best on dry skin. All you need to do is keep it on the hard skin for less than 4 seconds at a stretch and check if you have achieved the desired softness. If not, then try it on another area before coming back to the same area. Repeat the process on both feet until you get desired softness. Once done, wash your feet to get rid of the dry skin, apply moisturizer and massage into your feet.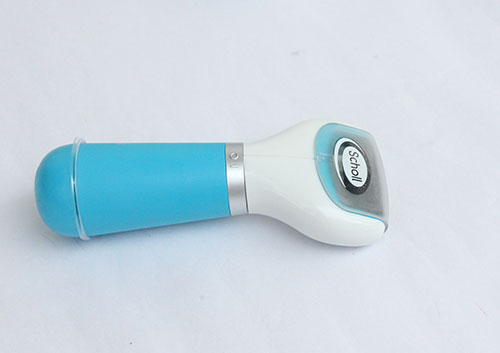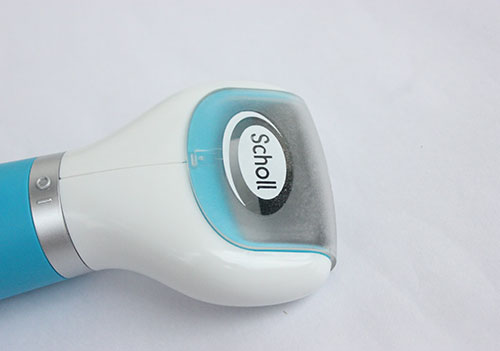 Since I have started using Scholl electronic file, I see a difference in my heels' and toes' skin. Moreover, it can be used anywhere and everywhere without creating any mess around. Of lately, I even carried it with me on one of the short trips to hills. After all, if getting rid of hard skin is so easy who wants to wait for the free time for a salon pedicure? My pedicure sittings have reduced by half since I have started using this handy pedicure machine.
What I like about 'Scholl Velvet Smooth Express Pedi Electronic Foot File'
– Ready & Convenient to use.
– It does not create any mess around.
– Travel friendly packaging.
– It runs on AA batteries so you do not need any charging point to charge it up.
– It comes with a replaceable head.
– It is easier to hold on to the handle.
What I do not like about 'Scholl Velvet Smooth Express Pedi Electronic Foot File'
– It is slightly heavy to be carried in a handbag so make some place for it in luggage bag.
– A wee bit expensive.
Price of 'Scholl Velvet Smooth Express Pedi Electronic Foot File': INR 2850. You can get it around 2000 on online market places, check it here.
Final Word: Scholl velvet smooth express pedi is an electronic foot file that is battery operated and very convenient to use. Now, you do not need to wait for the free time to go to a salon and get your pedicure done. You can quickly do that at home while watching your favorite tele-soap. It makes the feet smooth and happy. Depending upon the hardness of your feet, initially you may need to spend more time, but that will lessen as you get into the habit of regular filing.
You may also like reading these related topics:
VLCC Pedicure Manicure Hand & Foot care kit
How to do home pedicure – Do It Yourself