Hi Everyone, hope you are doing well. As you know from my social media posts, I have migrated to Canada, which is famous for its chilling weather. As I write this post, the temperature outside is still -2C. Though the spring season has officially started, we cannot get out of the house without bundling up in layers of woolen clothes. And, usually in cold season like this, my skin gets flaky but this time I am having new experiences. All thanks to the Koran skincare products- PURITO Defence Barrier Ph Cleanser, Centella Green Level Recovery Cream and Buffet Serum. It's been almost two months since I am using these products. I truly feel that it's a pretty long period to test any product so while I was sitting idle today sipping my hot cup of tea it occurred to me I should write this review for you all. So, let's get started.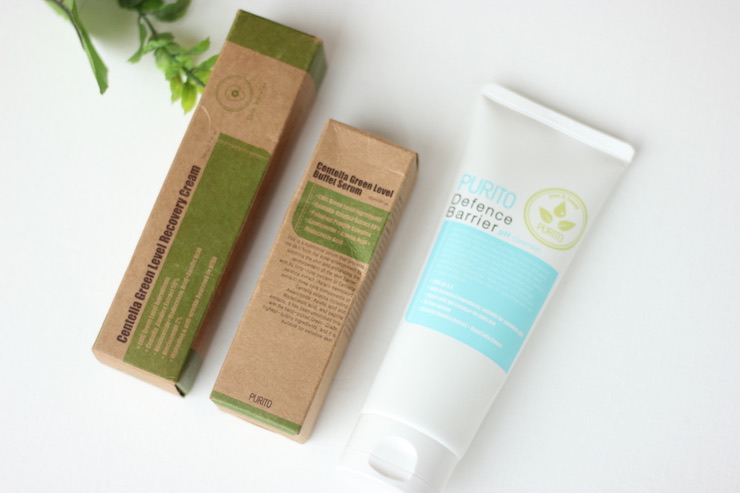 My take on 'PURITO Defence Barrier Ph Cleanser, Centella Green Level Recovery Cream and Buffet Serum'
Well, if you do not know the brand PURITO then let me introduce you to the brand first. PURITO means safe and purified natural ingredients that come from the clean soil. It is a Korean brand that distributes its products overseas. They make skin care products that promise flawless healthy skin without side effects. Now, as you know what to expect from this review let me talk about my experience with these products one by one.
The PURITO Defence Barrier Ph Cleanser comes in a white colored flip-open tube that is made of soft plastic. It is a transparent gel cleanser and does not have any odor, which is again very good thing if you have a sensitive nose. I am a foam loving person, and when I saw how much lather this mild cleanser produces I was happy to have included it in my skincare regimen.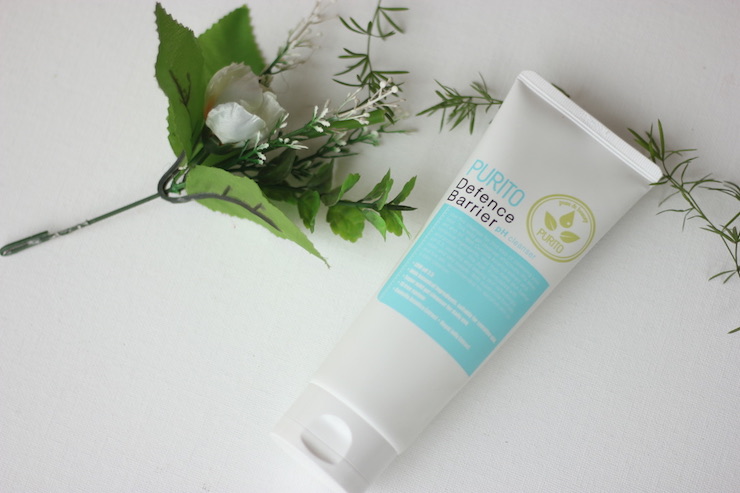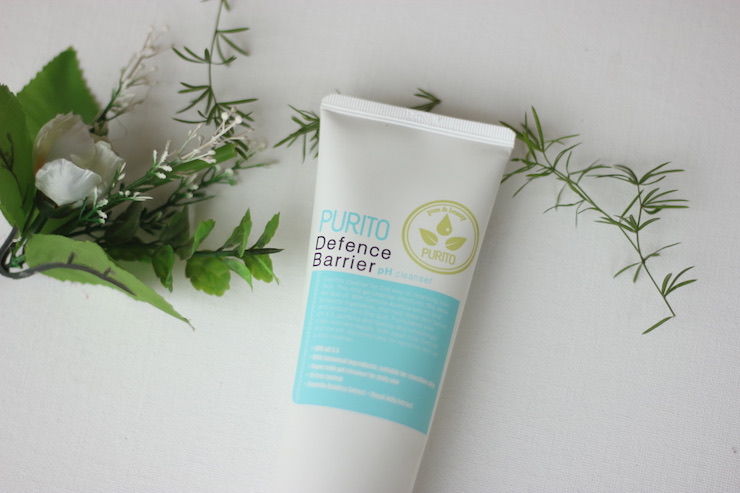 My acne prone skin also seems to be loving this foaming cleanser. I take a tiny drop of the cleanser on my wet palm, rub the palms to create lather and softy massage on wet skin for about 30-60 seconds followed by rinsing using tepid water. It effectively lifts away dirt and oil but it does work that well on waterproof makeup. I have the makeup on, I use the makeup remover as the first step of cleansing, and then this cleanser as a second step. True to its name, this cleanser perfectly balances the PH level of the skin neither making it dry nor oily. The Centella Asiatica extract and botanical ingredients help make the skin barrier and protect it from fine dust. As it formulated with PH 5.5 it purifies the skin and leaves it refreshingly clean and soft.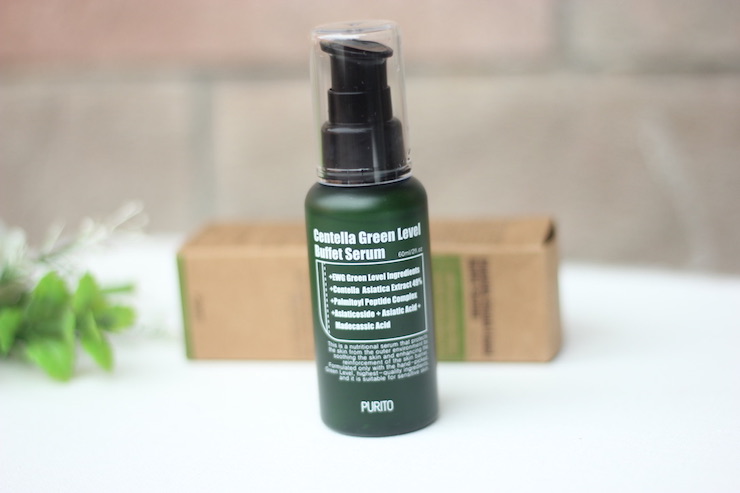 Now, talking about the PURITO Centella Green Level Buffet Serum, which I use as a second step of my daily skincare routine. This serum comes in a bottle green colored pump dispenser bottle with transparent cap. Since it is a transparent bottle it is quite lightweight and can be easily carried in a handbag. Plus, if you are traveling by air you can put this 60ml bottle in cabin baggage as well.
Just like the cleanser, the serum also has a gel consistency. It is a transparent semi-liquid serum that is odorless and colorless. One pump of the serum is sufficient to cover face and neck. I apply it in dots and soft massage until the product seeps into the skin. It is a lightweight, non-sticky serum that protects the skin from outer environment by soothing and enhancing the reinforcement of the skin barrier. I apply this serum morning and evening, and it definitely seems to boost my skin health. Plus, as it is formulated with botanical ingredients it does not cause any breakouts on my acne prone skin.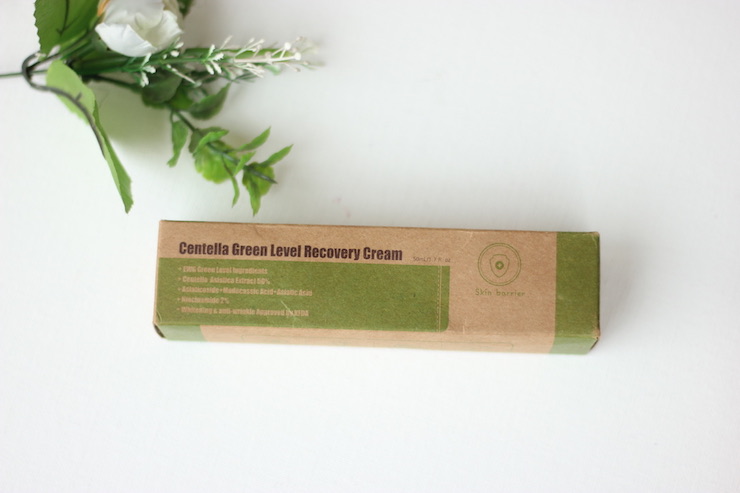 The third Korean skincare product I am talking about today is the PURITO Centella Green Level Recovery Cream. This cream comes in a toothpaste like the packaging so when I first saw it I could not straight away fathom its usage. I have never seen a face cream packed like this so this was new for me but now since I have used this paste form packaging I find it more hygienic and convenient. Instead of dipping my finger all through the big cream tub, I just need to give a soft push to this tube to get a small dollop of the cream on my fingertip. I then dot it all over my face and massage softly until it completely absorbs into the skin.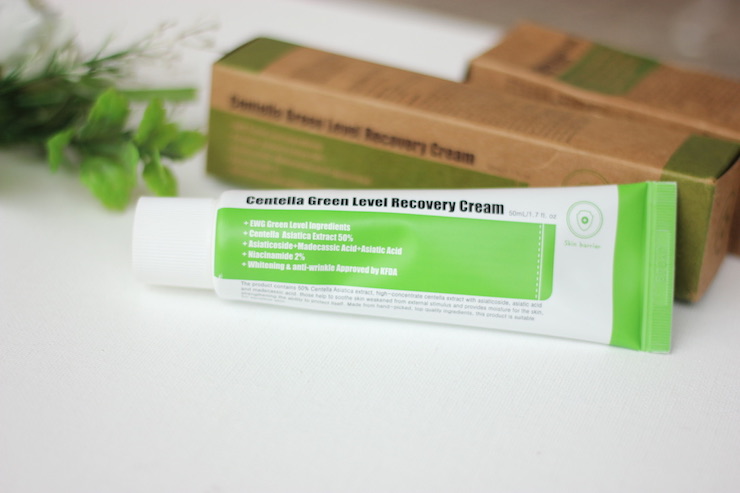 It is white colored, soft-textured cream in semi-thick consistency. Just like the serum, it is lightweight and nom-sticky. It provides the skin with required moisture without leaving any oily residue behind. Since I have started using this cream my skin does not go through any dry patches. Even in cold Canadian weather, I do not need anything else but this cream to keep up my skin's hydration level. Made from 50% Centella Asiatica extract, this cream helps to soothe the skin weakened from external stimulus and strengthens its ability to protect itself.
Price of PURITO Defence Barrier Ph Cleanser- $11.49
PURITO Centella Green Level Buffet Serum– $17.30
PURITO Centella Green Level Recovery Cream- $17.30
Final Word- Overall, I am extremely satisfied with the performance of these Korean skincare products on my skin. My skin looks and feels properly nourished now without any flimsy oily layer. And I personally believe that if you have a flawless skin you do not need to apply a lot of base makeup for the color cosmetics. Once you get a healthy skin, put on some kajal and a light lipstick, and you would still emerge as the star of the party.