Hi Everyone,
It's been long since I have reviewed any blush so I thought to post the review of Oriflame the one illuskin blush in shimmer rose shade. I am using it a lot of lately, without actually releasing that it has become my go-to blush. Oriflame has launched three such blushes. I have already reviewed one variant from this launch earlier; you can check its review in the 'related section' below. For now, let's take a look at how this blush performs on me.
My skin type: Oily to combination
My Take on 'Oriflame The One Illuskin Blush Shimmer Rose'
Oriflame the one illuskin blushes come in a compact, lightweight square case. The purple plastic case bears "The One" logo in golden color, and comes packed in another cardboard case. In case you own more than one such blush you do not need to open the blush in order to see the color you are picking because every blush has its name on the cardboard case as well as on the actual blush case.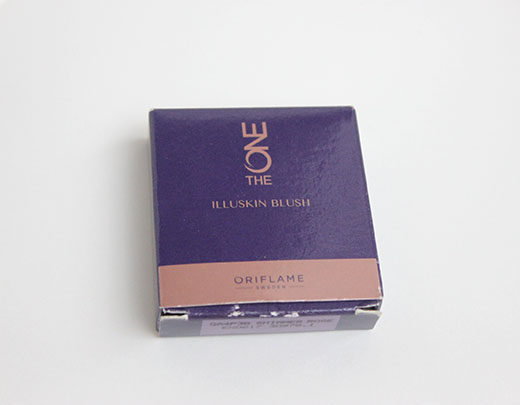 The blush comes with an inbuilt mirror but no brush. I personally feel these packaged brushes do not perform well when it comes to blending but yes they do come in handy when you are travelling and want to keep your belongings to bare minimum. The inbuilt mirror has to be handled with care, as in this case its glue gave off and it suddenly came out on its own. I still need to fix it, but need to be careful as once broken I will have one more item to add to carry bag while travelling.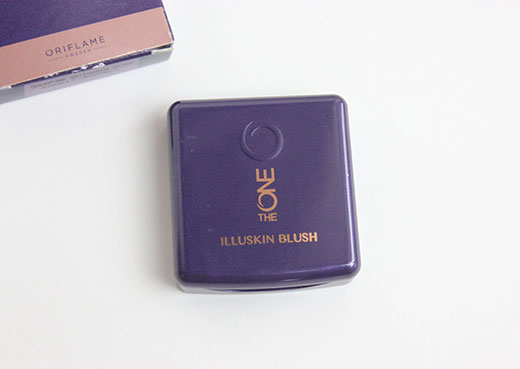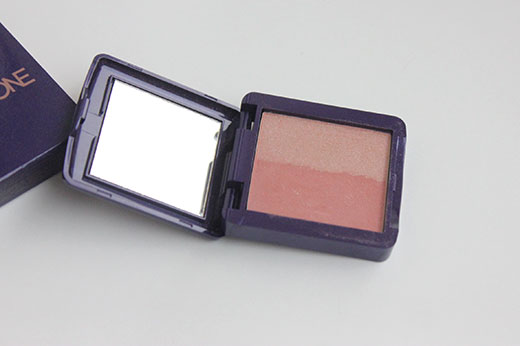 Shimmer rose contains two layers of colors, one is matte and kind of n*de with pink undertone and another is earthy with a shimmer effect. This is the blush that gives you close-to-natural pink glow. Also, if required, you can top it off with shimmer strokes; else you can use the shimmer layer for highlighting purpose.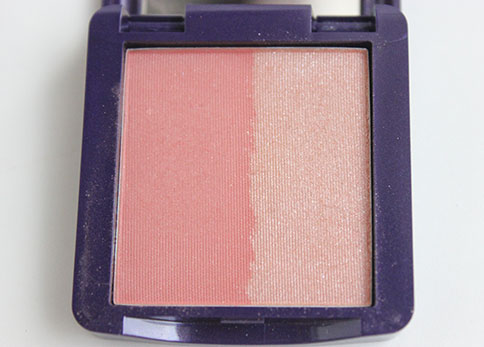 It has buildable pigmentation, which is quite visible even without primer or foundation. Blending is slightly difficult though, as you need to spend some time in order to get away from those sharp boundaries.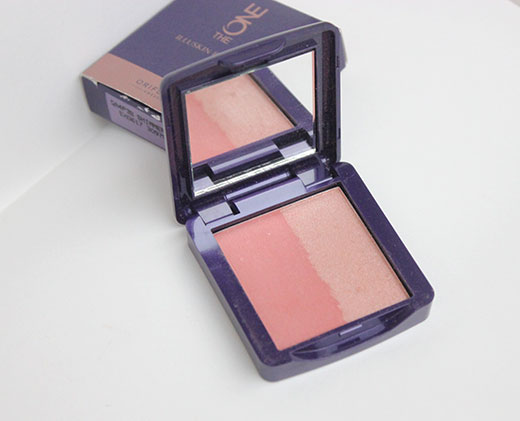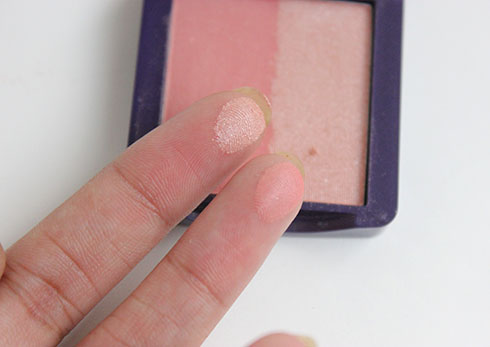 I have oily skin, and because of the powder base it tends to fare well on me without spreading. On an average I have observed it stays on me for 5-6 hours with slight fading but nothing of the sort that would require me to reapply it.
What I like about 'Oriflame The One Illuskin Blush Shimmer Rose'
– It comes in a compact, easy to carry packaging.
– This dual layer blush can be used for coloring apples of cheeks and highlighting.
– If you do not like shimmer then you can just apply the matte color.
– It has good, buildable pigmentation.
– Separate shimmer and matte layers make it an apt blush for both day and night time use.
– It would show up well on medium to fair skin tones.
What I do not like about 'Oriflame The One Illuskin Blush Shimmer Rose'
– It does not come with a blush brush so you need to carry one separately.
– Its packaging is quite fragile; the mirror has come out on its own.
Ingredients of 'Oriflame The One Illuskin Blush Shimmer Rose':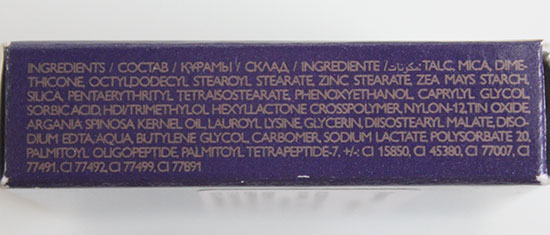 Price of 'Oriflame The One Illuskin Blush Shimmer Rose': INR 599 for 4g.
Final Word: Shimmer rose is a powder based double layer blush with neutral pink and shimmer layers. The usability varies from regular wear to part wear. It has good staying power that does not require any touch ups. Blending and packaging are the two concern areas, but not that severe to stop you from adding it your collection.
You may also like reading these related topics
First Glimpse: Oriflame The One Illuskin Blush Swatches
Oriflame The ONE Illuskin Blush Pink Glow Review