Hello my beautiful friends
As we all know, sun is at its peak. If we do not shield ourselves from sun, this rock melting heat can make our body dehydrated. Not only that, it can cause sun burns, tanning and what not. In this hot weather, we should drink lots of water and keep our skin protected from sun. Today, I am going to share my experience with Neutrogena Ultra Sheer Dry Touch Sunblock SPF 50+ Review. I was not a sunscreen person until I tried this product. It is one of the best sun blocks available in Indian market at a reasonable price. Let see how it fared for me.
What the product says:
Neutrogena Ultra sheer dry touch sunblock SPF 50+(PA +++) is a breakthrough in sun protection. Stabilized with Helioplexâ, it provides superior balanced broad spectrum protection against skin aging UVA and burning UVB rays and combines it with Dry Touch Technology for an ultra light, non shiny finish. This light weight sun block has a light fresh scent and is gentle enough even for sensitive skin.
Directions to Use:
Apply liberally on face and body 15 – 30 minutes before sun exposure. For added protection, reapply after swimming, towel drying or extended sun exposure.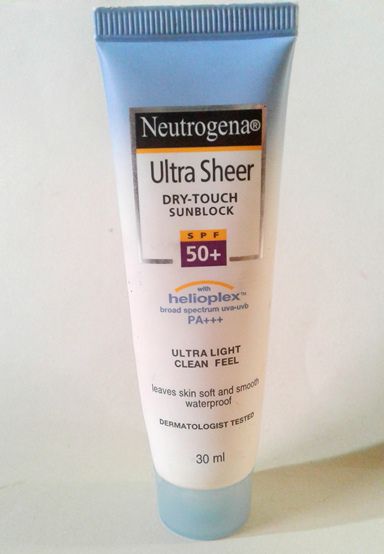 My skin type: Oily
My take on 'Neutrogena Ultra Sheer Dry Touch Sunblock SPF 50+'
The product comes in a tube packaging. It is beautiful combination of blue and white, the edges are blue and center is white colored. The name of the product and other details are written in black color, and this contrast gives it an even more appealing look. The opening of the tube is covered with a translucent screw cap which fixes tightly in place and ensures that contents are not going to spill. Overall, the packaging is quite simple and plain yet eye catching. And, it can be easily carried in hand bags as it spill-proof and does not occupy much space.
The sunscreen is of white color, and has very mild floral fragrance. It is a mild fragrance that does not linger on for more than couple of minutes. If you love non-fragrant sunscreen you love this cream for that. The texture of the product is very soft and has semi-thick consistency. It is neither too runny but nor too thick and feels like a well whipped cream. The soft texture makes it glides smoothly on face just like butter on a toast. Considering my past experience with sunscreen, I would say this is the easiest to apply as it penetrates into the skin without leave any residue behind. Moreover, a very small amount is needed to cover whole face and neck, making the tube last for long.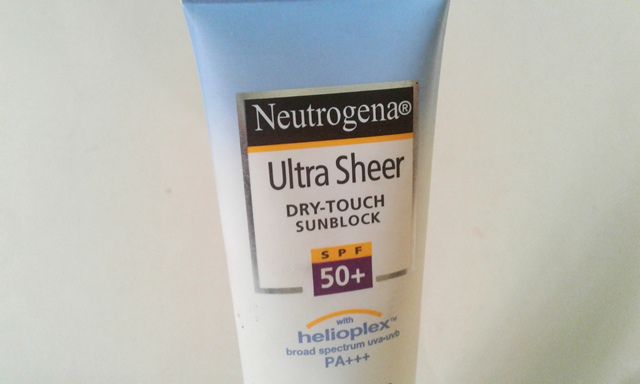 This sun block speaks very highly of Helioplex, which is its active ingredient. Just like every other girl, I did not know what it meant so my curiosity encouraged me to do a google search about this ingredient. Here is what I found "Helioplex is a formulation of broad-spectrum ultraviolet (UVA and UVB) skin protection containing avobenzone and oxybenzone made by Neutrogena. Avobenzone-containing products have decreasing efficiency after a few hours of sun exposure, but the addition of oxybenzone reduces the amount of degradation that occurs". I am happy this ingredient will shield my skin from sun as I keep containing my daily errands.
It is an SPF 50 sun block; considering Delhi heat and the time I spent in sun I could not have settled for a lesser number. I think, this sun block is suitable for all skin types but going by my experience I would say it is ideal for oily skin. It feels so light that I forget I have a sunscreen on my face. I apply it every day even when I am staying indoors or going for a casual walk. It blends with the skin perfectly without making it feel greasy. As I have oily skin so it breaks out often but I have not faced any such irregularities till date since I have added this sunscreen to my daily regimen.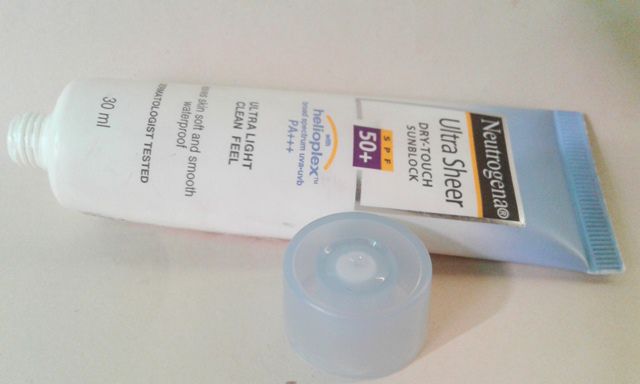 It gives matte effect and does not make the face shine like a tube light. It protects the skin from getting tanned as before using it my skin used to easily catch suntan. Also, it does not leave any white cast, and this the biggest plus for me. I have dusky skin so if a cream leaves a white cast it becomes very visible on my skin giving a superficial look. Since this cream does not do that I do not have to keep seeing myself in mirror to wipe off the artificial-whiteness. That being said, I apply this sunscreen under makeup and it does not hinder its lasting power. I apply it 10 to 15 minutes before applying makeup, even if I do not have to apply it underneath makeup I make sure that I give it at least 15 minutes to settle and prepare the skin to combat sun rather stepping out immediately after application. The best part is I don't feel the need of re-applying it as it gives protection for long hours but if you have sensitive skin you can reapply it as required.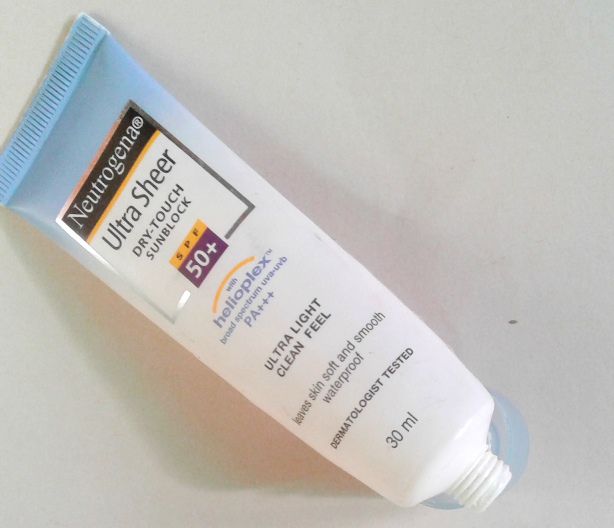 What I like about 'Neutrogena Ultra Sheer Dry Touch Sunblock SPF 50+'
– It is water-proof.
– It has mild floral fragrance
– It gives matte effect.
– It does not cause any breakouts or irritation.
– It helps in keeping skin tan-free.
– It prevents acne marks from getting darker.
– It quickly gets absorbed in the skin.
– It does not feel heavy.
– It does not make skin oily.
– It is easily available at an affordable price.
What I do not like about 'Neutrogena Ultra Sheer Dry Touch Sunblock SPF 50+'
– Full list of ingredients is not disclosed.
Shelf life of 'Neutrogena Ultra Sheer Dry Touch Sunblock SPF 50+': 24 months
Price of 'Neutrogena Ultra Sheer Dry Touch Sunblock SPF 50+': Rs 175 for 30 ml
BABE Rating: 4.5/5
Final Word: If you have only skin, and are looking for sun block that gives oil free, matte look, in addition to sun protection, you should give this a try. I am in love with this product and will definitely buy it again for summer season. It keeps my skin tan-free and sun-safe without making it greasy or white. It gels with skin and does not give a superficial look; neither does it cause skin breakouts. Overall, I can say this is one of the best sunscreens I have ever tried and I will continue using it.
You might also like reading these related topics:
Eau Thermale Avene Very High Protection Emulsion SPF 50 Review
Eau Thermale Avene Very High Protection Cream SPF 50+ Review
Vichy Capital Soleil SPF 50 Mattifying Face Fluid Dry Touch Review
Jolen Sun Screen Lotion SPF 15 Review, Swatch