Maybelline #SwipeToSpice Challenge-2 Winners 2 Beautiful Hampers
Hi Everyone,
Of lately Maybelline has widened its ambit of 'Baby Lips' with the launch of 'Baby Lips Spiced Up' lip balms. Exotic and vibrant, these lip balms come in three variants: Berry Sherbet, Tropical Punch and Spicy Cinnamon. If you have tried Maybelline electro pop colored lip balms, I am sure you must already be in love with them. The 'Spiced Up' lip balms are formulated to not only suit all Indian skin tones but their taste buds as well. You can get them online from NYKAA.
The good news is you may own these intense colored lip balms by participating in this #SwipeToSpice challenge. All you need to do is:
1) Comment below your favorite Bollywood dialogue but in SPICED UP version. Some examples are:
– Bade bade deshon me ese Baby Lips k naye naye variants nikalte rehte hai
– Arey O Samba, kitne variants hai?'
– Ek Baby Lips stick ki kimat, tum kya jaano Ramesh babu
Refer to this video to get some idea.
2) Facebook:
a) Like Be A Bride Everyday and Maybelline India facebook pages.
b) Share the FB post on your facebook page and tag two friends. Here is the post url: Do not forget to tag'BeABrideEveryday' and 'MaybellineIndia' in shared post.
3) Twitter:
a) Follow '@BrideEveryday' and '@MaybellineIndia'
b) Tweet/Retweet following post, the more number of tweets/retweets the more your chances of owning a beautiful hamper.
#SwipeToSpice challenge-2 winners get @MaybellineIndia hampers. http://bit.ly/1LMqvCu #brideeveryday @BrideEveryday
4) Instagram:
a) Follow BABE and MaybellineIndia on Instagram
b) Regram Instagram post, tag two friends and ask them to participate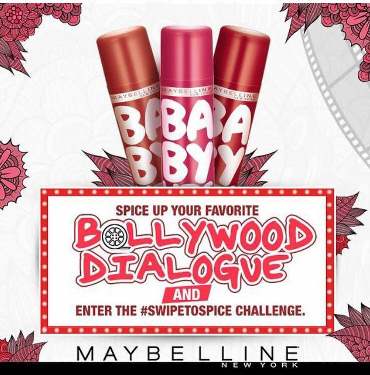 Please use this format to comment below:
1) Bollywood Dialogue:
2) Facebook user ID and url of the shared post:
3) Twitter user ID:
4) Instagram user ID:
There will be 2 winners so 2 hampers. Each winner will get a beautiful hamper by Maybelline India. The more creative you will be the more are your chances of winning. Plus, you can maximize the chances even more by sharing and retweeting this post every day.
The contest will end on midnight 10th of July, and winners will be announced in the morning of 13th of July. Winners will be given 48 hours to send their mailing addresses, failing which new winners will be announced on 15th of July. Please make sure you mention correct email ID while commenting as I would be using that for communication, in case you are the luck winners.
Also, note it is a Maybelline India sponsored contest and they will be responsible for sending the hampers. And, this contest is open ONLY for Indian residents.
I am also running a parallel jewelry giveaway that again has 2 winners. To participate in that giveaway click here, as the steps are almost the same so there is high probability that you will get one or other prize.
This contest is closed now!!