How To Make A Sock Bun In 5 Easy Steps
Hi Everyone,
I am so much in love with sock bun these days. Actually, I have always loved these high buns but never thought I would be able to recreate them on my layered hair. Until recently, when everybody in my family has started flaunting these envious buns, I have never ever given a try to them. To my surprise, even the first attempt did not turn up that futile. One definitely needs to practice a bit to get that impeccable perfection but believe me it is not an impossible target. Enough of blabbering, now let's have look at what you require and the step-by-step procedure of making the sock bun.
Things you need to make a sock bun
1) An old sock.
2) A pair of scissors.
3) Bobby and bun pins.
4) Elastic bands
Step 1: Take an old rugged black sock, cut off the toe section so that you have a sock that is open from ankle and toe ends. Now, take one end and start rolling it up to other end. Keep rolling until the other end is over. The final outlook should resemble the shape of a doughnut. I have taken black color to match it closely to my hair color. In case you have brown hair you should go for a brown sock. Though the sock would not be visible underneath the bun yet it is always better to take precaution.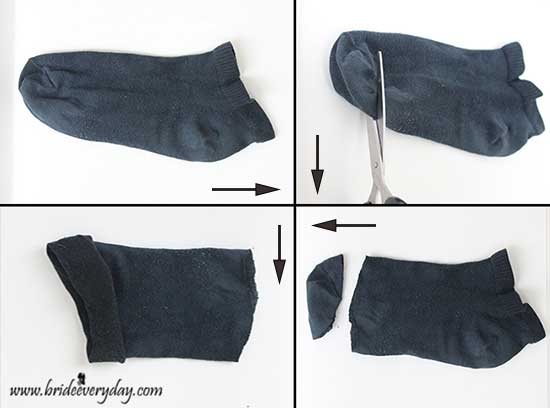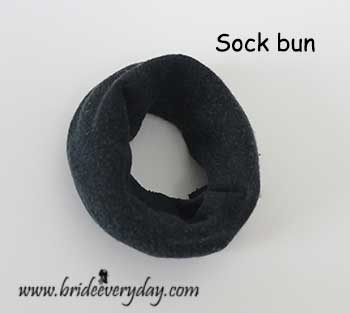 Step 2: Pull your hair to make a pony tail. Depending upon your preferable bun position you can keep the pony height. Usually sock buns look best when they are up, but if you are planning to work with front manes then you can go for a low bun as well. If possible, use sleek rubber bands or elastic bands that closely match to your hair color.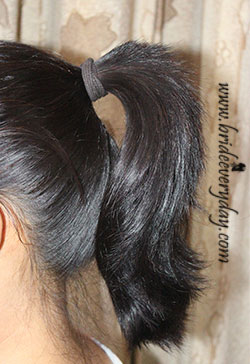 Step 3: Carefully slip the sock doughnut into your ponytail. Now comes the trickiest part, the final look of your bun depends on how cleanly you can do this step. What you need to do is: hold you ponytail from the ends, and spread the manes symmetrically around the sock doughnut so that they cover every side of the sock. This looks quite like a chocolate fountain that is dripping chocolate from all directions. Take an elastic band and put it around the evenly spread hair. Push the band downwards to fortify the grip.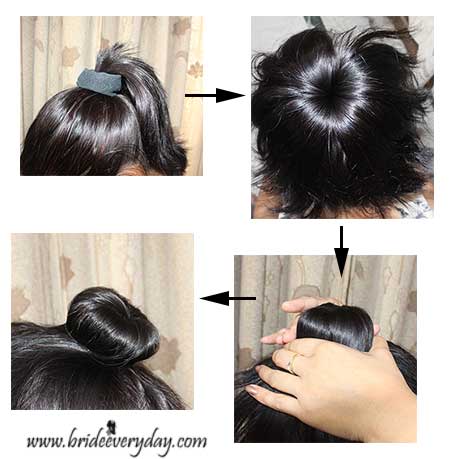 Step 4: Now, you need to take care of the loose ends that are not in the grip of elastic. Use bobby pins and bun pins to immaculately pinup the strands either on the sides of the bun or underneath it. Once you are setting it, ensure that it is at the desired position. Fix more pins if you think it requires more stability.

Step 5: You are almost done with the sock bun.
This is an additional non-imperative step. All you need to do is tame the loose hair with hair spray so as to get clean look. I did not use the spray for this tutorial, but it is always a good idea to use it for a cleaner appearance.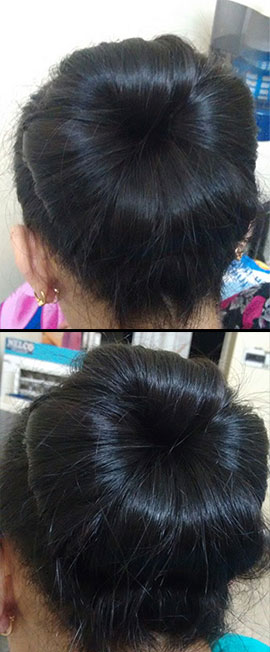 High sock buns look elegant and modern. I believe they give an aura of utmost sophistication and style. I am totally love-struck with this hair style these days, and if you give it a try, do let me know how it turn up for you.
You may also like reading these relatd topics
Lakme Salon Show Stopping Hair Collection and Hair Makeover Experience
Obsessed With Cuteness – Cute Hairstyles Are The New Fashion
Style Your Hair With These Simple Braided Hairstyles