I have been using sunscreens forever now. No, it is not like I have been using the same sunscreen for ages. I keep changing it to save my skin from getting saturated with just one 'ingredient-list'. This time, when my sunscreen got over I decided to try Lotus Herbals Safe Sun Block Cream SPF 30. It is the first time I have bought an SPF 30 sunscreen, all my previous sunscreens were mostly between SPF 40 to 60. Thus, I was afraid of the performance of this SPF 30 sunscreen, but did it really disappoint me ? Read on to know my experience with it.
What the product says
This cream effectively blocks the UVA & UVB rays of the sun and helps preserve the youthfulness of your skin. Good for protection from direct exposure to sun for shorter period.
My Skin Type- Combination to oily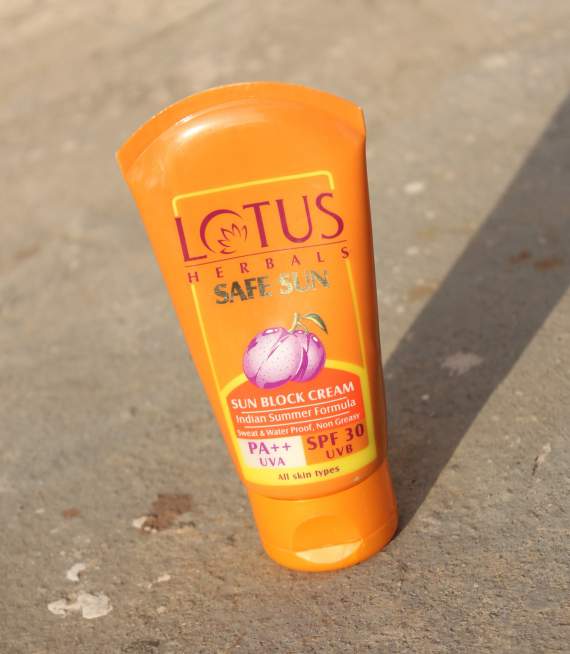 My Take on 'Lotus Herbals Safe Sun Block Cream SPF 30'
It comes in an orange color flip-open plastic tube. The plastic is soft so you can easily squeeze the tube till the last drop. Like most of the flip-open packagings, it has everything – right from 'ingredient list' to 'directions of usage' mentioned on the tube. Also, the cap closes properly, making it easier to carry in luggage bags/handbags without any leakage of the contents.
For the texture, it has semi-thick consistency that makes it easier to squeeze-out just the required quantity. Usually, I take the cream on the tip of my finger, doting it all over the face and neck area. The problem comes while spreading this sunscreen. Though the consistency looks and feels easy-to-work with yet somehow it gets stuck on the skin – as if glued. And, to make it reach every corner I have to make more than average effort.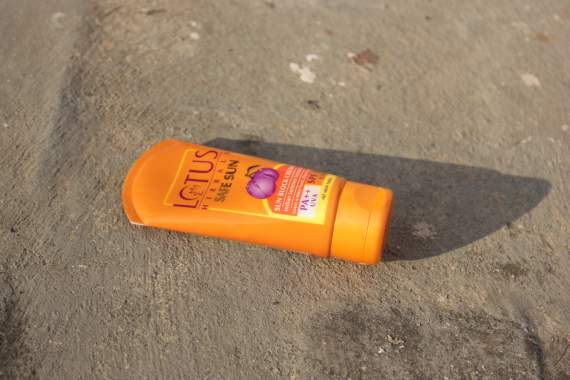 The good part is once spread it does not feel heavy rather feather light. Also, unlike most of other sunscreens it does not leave any white cast behind. I have experienced some sunscreen melting on to the skin thereby giving an oilier look to my super oily face but Lotus Herbals Safe Sun Block is different in that aspect. It feels just like any other moisturizer, and does not even cause any greasiness irrespective of the duration I put it on.
Plus, I have acne prone skin so I need to choose the skin care products wisely. Otherwise, it just ends up with painful zits that leave their stubbron marks. So, when I started using this Lotus Herbals' sunscreen (my first experience with Lotus sunscreens) I had my apprehensions about the efficacy but fortunately it has not caused any untoward result on my skin.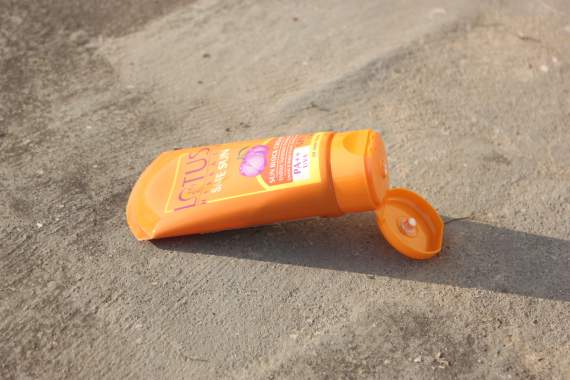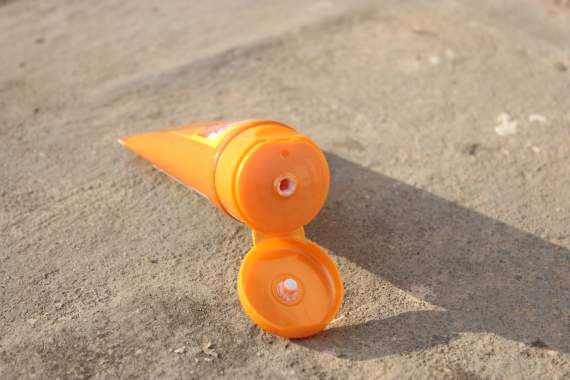 Speaking of efficacy, I have been using this cream for over 3 weeks now and in this span, it has not caused any skin breakouts. Also, I have not experienced any sun-burns or rashes since I have started using this sunscreen. I do not spend a lot of time in the sun so I just put it on once and that too in the morning. But if you need to stay in direct sun for long hours you should reapply this sun screen after every 2-3 hours.
What I like about 'Lotus Herbals Safe Sun Block Cream SPF 30'
– It does not leave any white-cast.
– It does not cause any skin breakouts.
– It does not make my oily skin anmy greasier or oilier.
– Affordable price as compared to other sun screens.
– It feels feather light without any accumulation of white particles.
What I do not like about 'Lotus Herbals Safe Sun Block Cream SPF 30'
– Requires effort in spreading.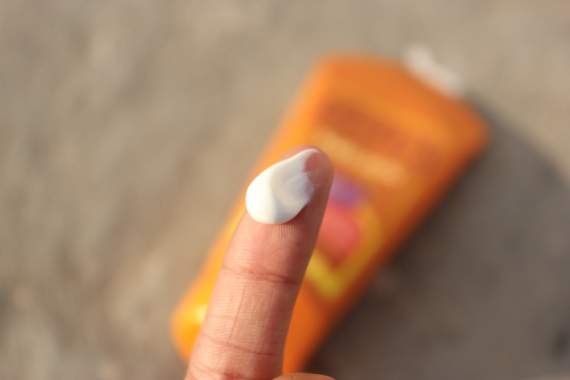 Price of 'Lotus Herbals Safe Sun Block Cream SPF 30': Rs 195 for 50g
Ingredients of 'Lotus Herbals Safe Sun Block Cream SPF 30':
Berry Extract- Antioxidant, Inhibits melanin formation results in skin whitening. Octyl Methoxy Cinnamate- Organic Sunscreen agent. Menthyl Anthranilate- Cooling agent. Titanium dioxide- Naturally occurring Physical Sun block agent
Shelf life of 'Lotus Herbals Safe Sun Block Cream SPF 30': 3 years from date of manufacturing
BABE Rating: 4/5
Final Word: Lotus Herbals Safe Sun Block Cream SPF 30 is a nice affordable option for all skin types. Its efficacy is better than other drugstore sunscreens. The facts that it does not leave any white cast and does not make the skin any oilier are another plus points that would make me repurchase it. If you do not mind spending slight effort on spreading this sunscreen you should definitely give it a try.
You might also like reading these related topics:
Eau Thermale Avene Very High Protection Cream SPF 50+ Review
Vichy Capital Soleil SPF 50 Mattifying Face Fluid Dry Touch Review
Jolen Sun Screen Lotion SPF 15 Review, Swatch