Hello my beautiful friends,
Spring is here, nature looks so beautiful- blooming and colorful. It looks so pleasant everywhere, and gives a soothing feeling. Just like this magical nature, today I am going to review Lakme Face Magic Skin Tints Crème. If you are into tint creams you must have heard of this product. Nowadays, everybody wants the 'makeup look' without putting effort, and considering the crunch of time this demand is absolutely right as well. The BB and CC creams are useful for daily wear – they are moisturizing, even out the skin tone without feeling heavy like foundations. Lakme face magic skin tints crème comes in three shades- pearl, marble and shell. Shell suits best for my skin tone; let's see if it worked per my expectation.
What the product says:
Let your skin glow with just a hint of tint! Lakme Face Magic Skin Tints Crème has just the right touch of skin perfecting color for an instant glow. Easy to blend and Infused with sunscreens, it gives you your confident daily care.
Instant glow + daily protection = Lakme Face Magic Skin Tints Crème.
Get a flawless skin with Lakme Face Magic Skin Tints Crème.
– This water-based solution blends easily with your skin.
– It offers instant glow to your skin
– Enriched with Cucumber extracts it keeps your skin moist and cool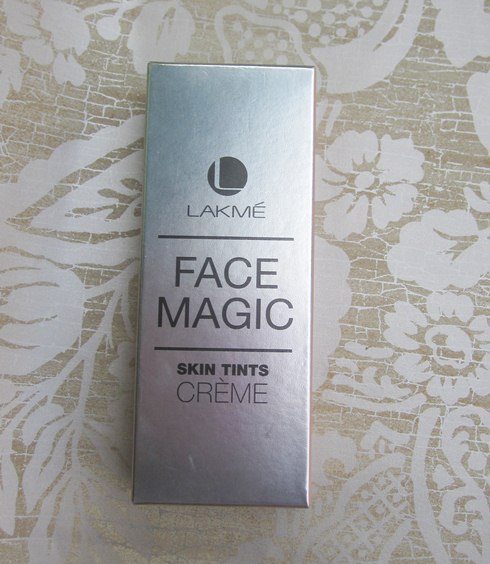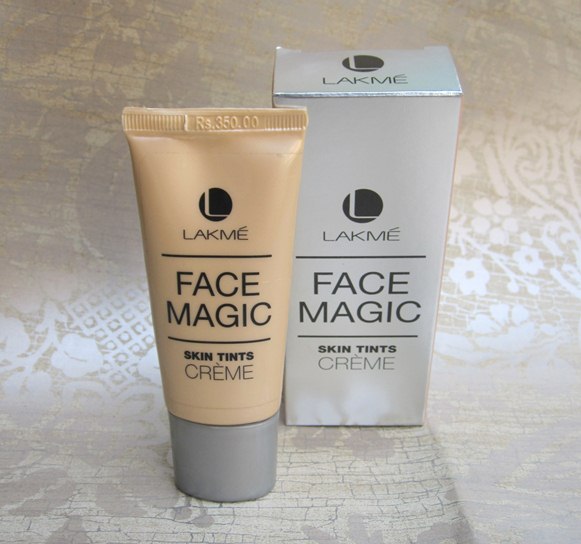 My Skin Type: Combination to oily
My Take on 'Lakme Face Magic Skin Tints Crème'
Let's talk about the packaging first. The outside paper cover is shiny silver and contains a squeezable tube with silver cap. It is a neutral color tube that has all the instructions and benefits mentioned on it. The silver cap fits perfectly and makes it spill-proof. It is also a travel friendly product so you can easily keep it in your hand bag. It claims to have SPF but nothing is mentioned on the packaging. I like to go through the ingredient list to see if the ingredients will suit my skin type or not but the absence of ingredient list is a downside.
I purchased the shell shade as it matches with my dusky skin tone. The best thing about Lakme is that it has wide shade range, and my dusky skin tone can easily find a matching shade. Being an Indian brand it takes care of the needs of Indian women, otherwise I always have issues finding an appropriate shade in foreign brands. This crème has very deep yellow tone so is suitable for my complexion. People with pink undertones should skip this as it will look superficial on them not giving the desired result.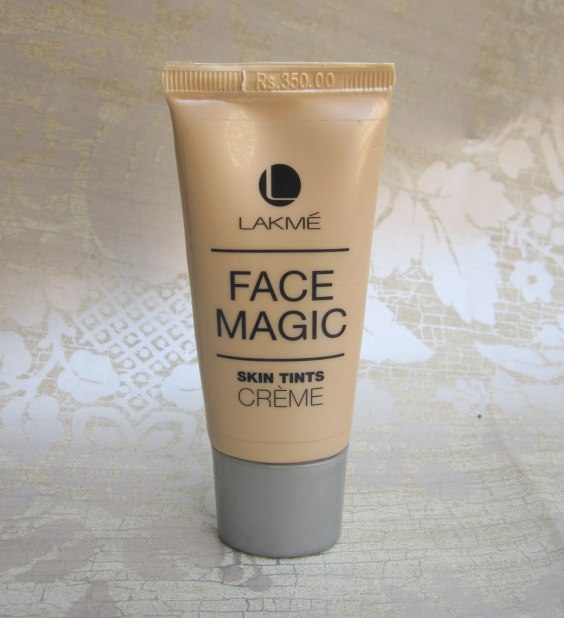 It has smooth creamy texture, of course with slight tint. It is a water based cream that blends well. Plus, this makes it ideal for combination to oily skin, especially in summer season. It is good for winter as well; it is just that in cold weather I have to apply an additional layer of moisturizer underneath it. Irrespective of the season, it keeps the skin moisturized without any dry patches. It settles down seamlessly and works well on properly moisturized skin. Else, it settles in fine lines not giving a good finish. In summers, I prefer applying it over water based moisturizer. But dry skin beauties might need to use average or heavy moisturizer depending on their skin condition.
This cream gives very sheer coverage. I was expecting it to provide the same coverage as BB or CC creams do but it does not live up to that expectation. Plus, it does not conceal acne scars, pigmentation or even camouflage pore size. These are the big concern areas for oily acne prone skin, and it does not work well on those parameters for me. On the contrary, it works well in providing an even skin tone. If your skin is free of stubborn scars you may give this a try. My sister uses it because she does not have any marks on her skin, and she is pretty happy with the finish.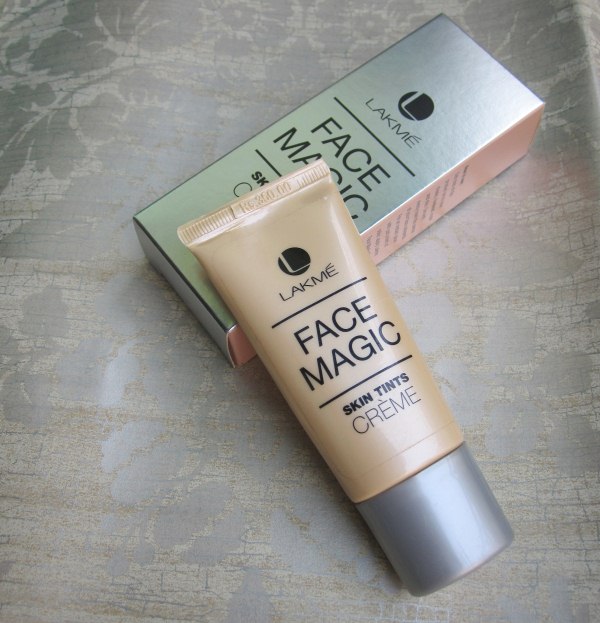 Talking about the staying power, during winters it stays for 3 to 4 hours afterwards slip off my oily skin. In summers the staying power is even low- it does not stay for more than 2 hours. But it might last long on dry and normal skin. For the finish, it gives an instant glow to skin making the skin look clear and bright. It makes the skin little bit oily and that's why I always apply compact on top. And doing also increases the staying power. If you dry or normal skin you might not need to apply the compact. Also, it does not cause any skin breakouts, which is a positive for people like me.
What I like About 'Lakme Face Magic Skin Tints Crème'
– It is water based tinted cream.
– It blends well.
– Availability is not an issue.
– It does not cause any breakouts.
– It feels light and non-sticky.
What I do not like about 'Lakme Face Magic Skin Tints Crème'
– Less coverage.
– Does not conceal scars or pigmentation.
– Less staying power.
– It makes skin oily after sometime
Price of 'Lakme Face Magic Skin Tints Crème': 350 INR for 27 gm
Shelf life of 'Lakme Face Magic Skin Tints Crème': Around 36 months from date of packaging.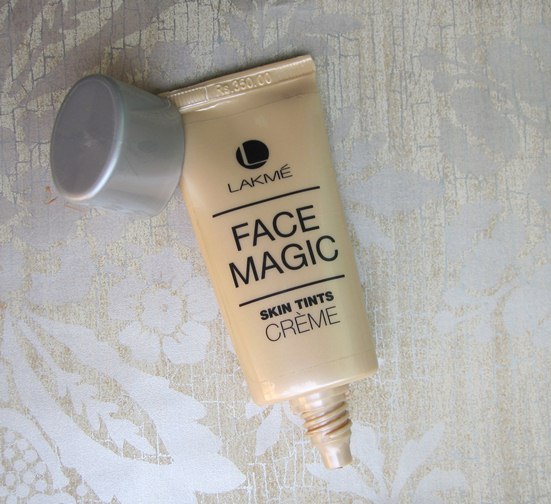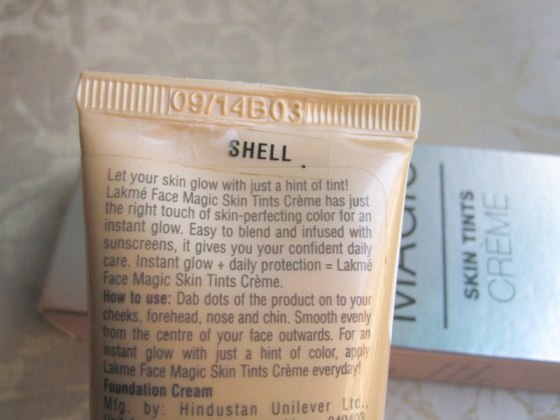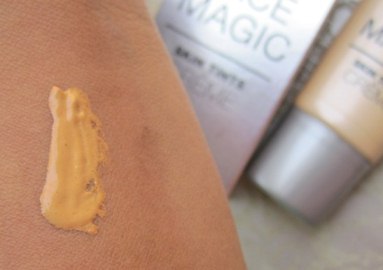 BABE Rating: 3/5
Final Word: Overall, it can be used for daily wear purpose as it gives brightness and glow to the skin which many day creams fail to provide. If you are looking for something to hide scars or pigmentation this will not suffice that purpose. However, if you have clear skin and just need a light tinted moisturizer this can be your pick. It is an okay(ish) product because a lot of bb and cc creams are available in market which are cheaper than this and perform better. I am not going to buy this again, though I might like to try BB or CC creams from the brand.
Author: Veena Singh