As Innisfree India is opening it's another new store in the Mall of India, Noida on 18th of April, the cosmetic company decided to share the joy of expansion with BABE's readers. For makeup lovers, there could not have been a better occasion to join this contest than the colorful Holi festival. Innisfree lip lacquers come in pretty shades, are highly pigmented and have good staying power. So girls, participate in this contest and cherish your love for makeup. Following are the details that will help you in becoming a proud owner of stunning Innisfree lip lacquer.
Contest details:
1) 3 winners will be chosen.
2) Each winner will get a lip lacquer from Innisfree India. The company will be responsible for shipping the products.
3) Contest will run from 10th March – 20th March.
4) Winners will be announced on 22nd March.
5) Open to Indian residents only.
Rules for participation:
1) No compromise with colors this Holi when you have amazing giveaways from Innisfree! In the comment section below, share your after Holi skin care regime with us.
2) Like InnisfreeIndia and BeABrideEveryday facebook pages.
3) Share the giveaway post on facebook (link of the post is here) tagging 3 friends using hashtag #BABExInnisfreeIndia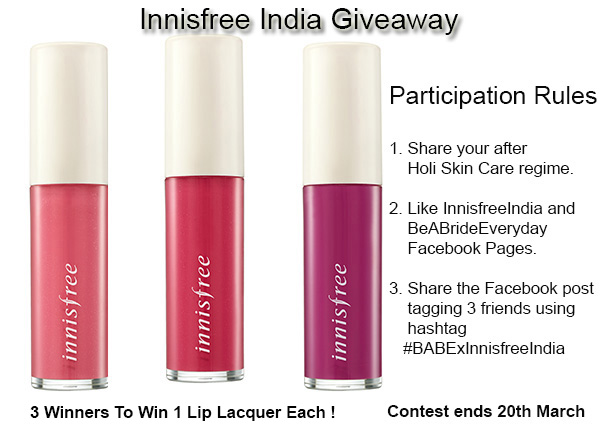 You can share the contest a number of times across the span, but on a single day please limit sharing/reposting to a maximum of 3 times. This is a national contest so ensure you are participating only if you reside in India.
If any of the above rules is not followed, the participation will not be considered while choosing the winners. Follow all the rules and stand a chance to win beautiful lip lacquer. Good luck !!
Thanks to Innisfree India for sponsoring this giveaway.
P.S: The 2 lucky winners of LomiLomi 7 Skin Scheduler Mask Box will also be announced on 22nd of March.
P.S.S: Contest closed, result announced on 22nd March, 2016