Hello beautiful ladies,
Today I am going to review Grace Cole body spritz. I have used Grace Cole body scrub earlier, and I think it's a good brand as the quality of the products is nice. I got this body mist as a gift from my sister, and trust me it was a blind purchase as even she did not have any idea about the fragrance or the efficacy. Personally, I believe fragrance is a reflection of a person's personality and taste, but this was a choice made on ingredient list. Let's see what this fragrance says about me or my sister, who purchased it 
What the Product Says
These deliciously scented body spritzes revive the senses and lift the spirits. Refreshing your skin with the highest quality formulation.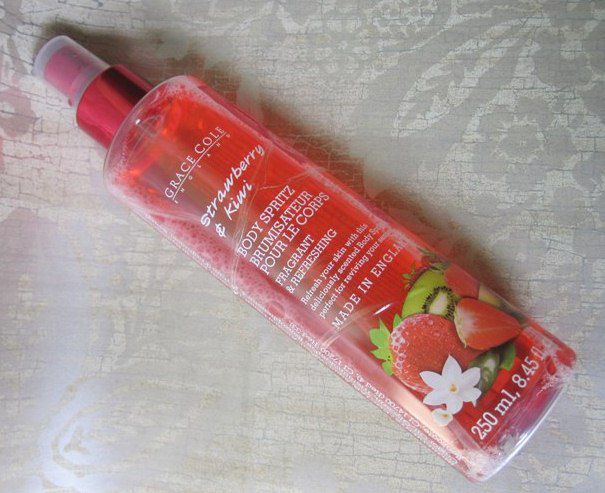 My Take on 'Grace Cole Body Spritz Strawberry And Kiwi Body Spray'
The body spritz comes in a cylindrical transparent bottle. It has a metallic dark pink spray nozzle. The nozzle is protected with a small transparent cap. Being small, the cap can be easily misplaced. If it had been of a slightly bigger size its use would be more convenient. The best part is cap has good grip and fixes tightly, and that helps in carrying it around spill-proof. The bottle has printed picture of juicy fruits that gives it a really tempting look, making it hard to leave it on the aisle/online stores. And, I think this tempting packaging made my sister bought it too.  Anyways, the product is crimson red in color and as the bottle is transparent you can easily keep a watchful eye on the quantity left.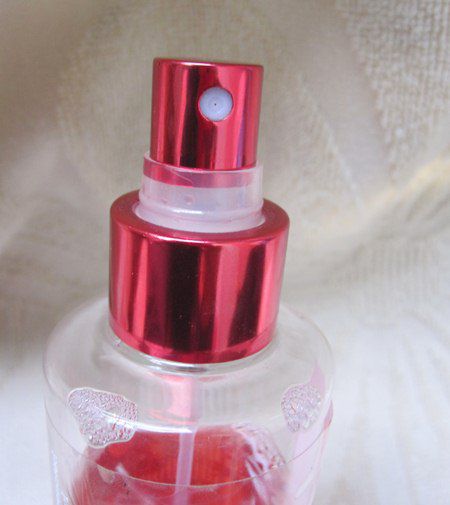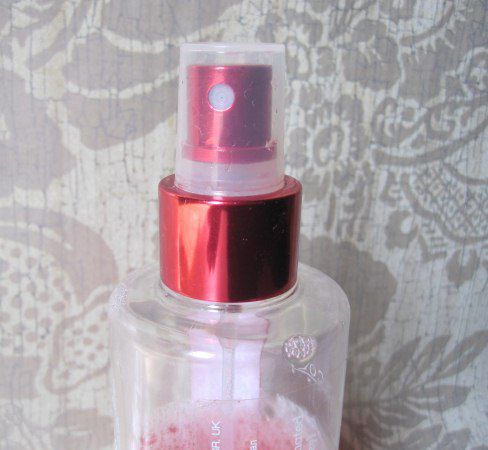 I am totally in love with this fragrance. I am not a person who buys body mists with fruity fragrance but this product is totally an exception. Since I have started using this product it has become an addiction. The fragrance smells so natural and yummy. It is not like those preservative fragrances rather it feels as fresh as a fruit on tree. I feel like pouring it in a glass and drinking; yes, it smells so yummy. For those who love fruity fragrances, this would be an amazing treat. It smells heavenly, and becomes quite irresistible just in a couple of applications.
Initially the smell can be overpowering but it is moderately sweet. The fragrance is really good for summers. It smells like a nice blend of kiwi and strawberry. Initially the smell of strawberries dominates the kiwi fragrance but after sometime it becomes the other way round. The sweet strawberry and tangy Kiwi fragrance is a great fusion. When I first sniffed this, it reminded me of bubble gum, which reminds me of my childhood (I used to chew bubble gums a lot).So, thanks Grace Cole for making such awesome and amazing fragrance. Plus, it does not stain the skin and clothes. It is safe to use directly on the skin.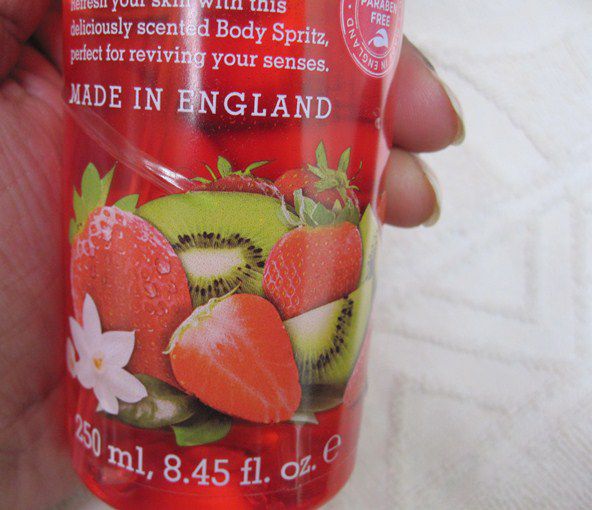 I have used it during summers and winters, and I think it gives different feel in both these seasons. In summers the fragrance of kiwis overpowers the smell of strawberries just after an hour but in winters the fragrance of strawberries lasts longer. I really like the smell of kiwi, a tangy fresh smell which keeps my day fresh and mouth watery.
The fragrance lasts for 4 to 5 hours which I think is quite justified considering body mist fragrances usually do not stay for long. This product claims to be paraben free. For those of you who don't know "Paraben is a harmful chemical substance which acts as a preservative". So the fact that this product doesn't contain this ingredient means it is less likely to irritate the skin. Till date, it has not caused any kind of irritation on my skin. Lastly, I want to say this is one of the best body mists /fragrance I have ever used. I have fallen for this product.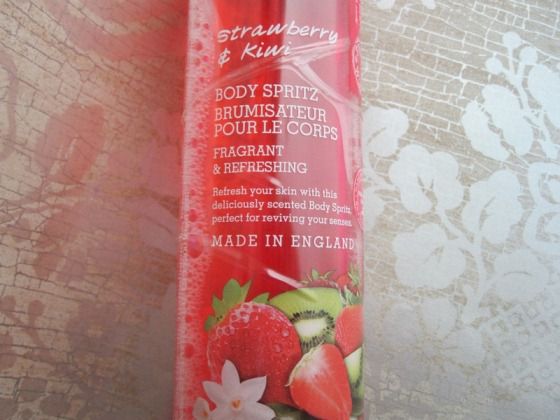 What I like about 'Grace Cole Body Spritz Strawberry And Kiwi Body Spray'
– It is paraben free.
– The fragrance lasts for 4 to 5 hours.
– A very nice blend of kiwis and strawberries.
– It does not stain skin and clothes.
– The fragrance is very fruity and sweet.
– Easy to use and travel friendly.
– Nice option for summers.
– A few spritzes make you smell like fresh strawberries and kiwis
– It can be a nice gift option 
What I do not like about 'Grace Cole Body Spritz Strawberry And Kiwi Body Spray'
– It is not available offline.
– Very different smell, which might not be everyone's cup of tea.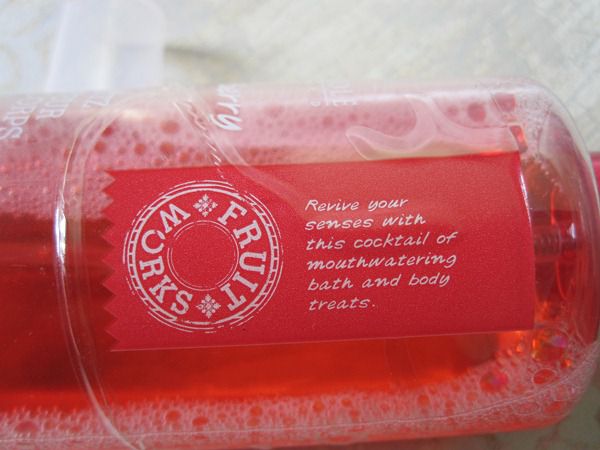 Price of 'Grace Cole Body Spritz Strawberry And Kiwi Body Spray': 700 INR for 250 ml
Ingredients of 'Grace Cole Body Spritz Strawberry And Kiwi Body Spray'
Aqua (Water), Alcohol Denat. (Alcohol), PEG-40 Hydrogenated Castor Oil, Glycerin, Triethanolamine, Benzophenone-4, Parfum (Fragrance), Linalool, benzyl benzoate,CI14700(red 4) ,CI17200(RED 33)
Shelf life of 'Grace Cole Body Spritz Strawberry And Kiwi Body Spray': 36 months from date of manufacturing.
BABE Rating: 3.75/5
Final Word: It is a perfect blend of strawberry and kiwi, and I really loved the fragrance. The smell is mouthwatering. If you love fruity fragrances, you should go for this without a second thought. The staying power is good for me and perfect for upcoming summers. There are other variants of this body mist, and I would definitely want to try them all.
Author: Veena Singh
You might also like reading these related topics:
Grace Cole Tea Tree And Witch Hazel Exfoliating Body Scrub Review
The Body Shop Virgin Mojito Body Splash Review