When it comes to clothing I mostly prefer comfortable attires; primarily in summers it is quite tough to survive Delhi heat in body hugging clothes. And that's why I rely on contemporary kurta designs; these trendy tops for women are comfy to carry and add femininity to the personality. My summer wardrobe is full of kurtas in different colors, cuts and fabrics. Recently, I am introduced to an online kurta store "Rangriti" rang is for colors and riti is for fashion. Mindful of the traditional taste of urban Indian women, Rangriti offers a wide range of tops for women. They have vast collection of tops in various fits such as kurtas in A-line, anarkali, asymmetric (high-low), flared, kalidar and straight styles. My personal favorite is straight kurtas as I believe they look professional and suit my body type. The brand also has striking designs in short kurtis; I love wearing them with cotton skirts. They can also be paired up with jeans, jeggings or three-fourth slacks.
Now let me show you my favorite kurtas from Rangriti.
1) Off-white cotton straight kurta: Quirky tangerine prints on off-white base enhance the look of this kurta. I also love the bright orange detailing on the hem, and on the borders of three-fourth sleeves. The detailing is making the design even more eye-catching. Besides, the cotton fabric is easy to carry in summers and keep you calm.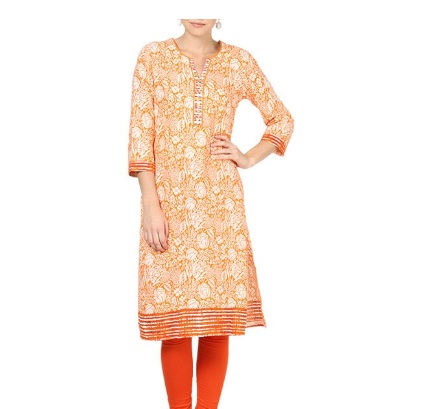 2) Lime green cotton kurta: Florescent colors are summer favorite; they add positive vibes to the outfit and lift up the mood. This lime green sleeveless kurta has got pretty printing with traditional designing at the border. The cut of this kurta is appropriate for those who want to portray an impression of slim figure.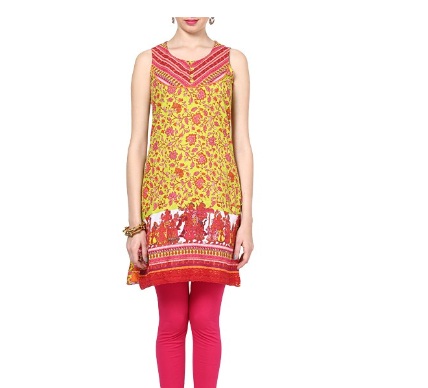 3) White and blue cotton kurta: Blue is my favorite color, and when I see an outfit in combination of blue and white I can hardly resist myself from adding it to closet. This piece in fine blue & white print looks cool for summers, and the contrast print on neck and borders is adding beauty to its sober look.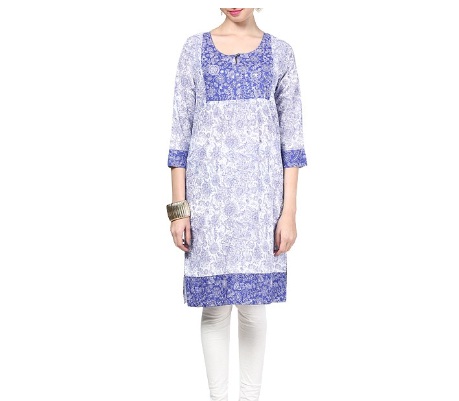 4) Royal blue cotton straight kurta: Again, my favorite color in a formal cut. I believe sleeveless kurtas embrace the body in a way that it gives a slender impression. For a pear shaped body this cut is an ideal fit as it leads to an hour glass figure illusion.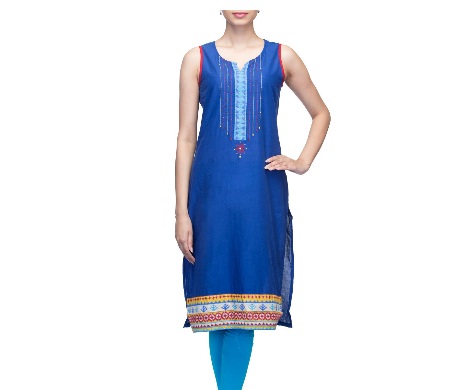 5) Blue cotton straight jacket: Saved the best for the last, this is my favorite piece of all. The navy blue jacket with strings at the top adds vitality to the plain white cotton kurta. It is a beautiful combination of floral prints and exquisite design. The best thing is it can be paired with any kurta to get a unique look, I think it will look strikingly beautiful with a red kurta.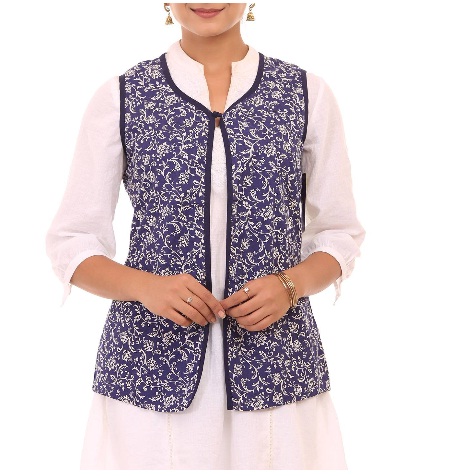 The cherry on the cake is that these kurtas are available is different sizes from 32 to 46, seeing this gamut I am sure there will be a size for everybody. What else? Rangriti is running discounts on few selected pieces and hence, the designs that are shared above fall in the price range of Rs 250 to Rs 500. I think they have priced the merchandised quite reasonably as these days it is difficult to find quality at this price. You should check out the site for sure. And, besides tops (kurtas), they also have bottom and dupatta collection. You can mix and match them with your chosen kurtas. Have a look and enjoy shopping !