Hi Everyone,
This is the season that makes me worry about my hair to the core. Primarily because of the hair fall, I know hair has a certain life cycle that it follows every year – old hairs fall off, new hairs grow in. But as I cannot see the growth of new hairs until they become at least 2 inches long all I worry about is the hairs I loose. Hence, to satiate myself that I am at least doing something for the well being of my hair I try mild hair care products that keep my hair clean without casting bad chemical effects. Of lately, I brought in Dove Hair Therapy Daily Shine duo. I have already reviewed daily shine shampoo, and today putting forth my review on daily shine conditioner. Read on to know if I will stick with this conditioner or replace it with a new product.
My Take on 'Dove Hair Therapy Daily Shine Conditioner'
Dove daily shine conditioner comes in a flip open tube that is made of soft plastic. The tube is pearly white in color, and because of the quality of material it is fairly easy to squeeze it irrespective of the content housed in it. The packaging is quite decent except the performance of the cap. The cap does not have solid grip so sometimes conditioner leaks out when the tube is placed upside down. In order to avoid that I always have to place it in a horizontal position, which is not a big thing but just occupies more space.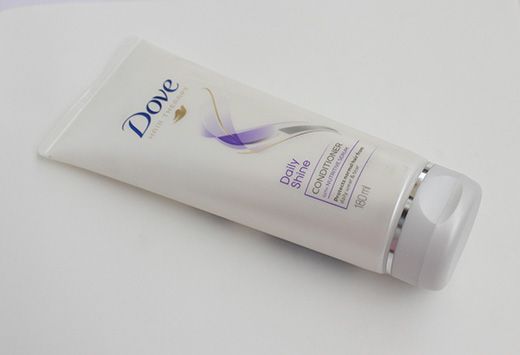 Conditioner is pearly white in color or I would say it matches with the color of the tube. The fragrance is fruity, quite similar to the fragrance of daily shine shampoo. Personally, I find it slightly strong but nothing to worry about as the fragrance fades in few minutes but the slight tinge of fruity aroma stays in my hair for around 2 days.
The consistency of this conditioner is semi-thick so unlike my previous conditioner's usage I apply it directly on my damp hair. I take medium size blob of conditioner, rub it between my hands and massage it through hair, avoiding its contact with scalp. Then I leave it on for 2-3 minutes; complete all other bathing chores in the meanwhile before rinsing it off with tepid water.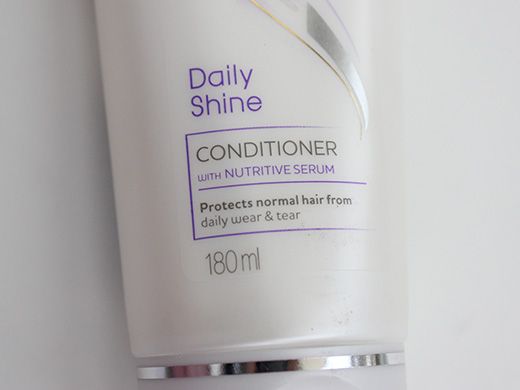 Unlike some of the other hair conditioners, dove daily shine does not leave a sticky feel behind. It gets completely removed from hair in no time. I can see the difference in hair softness immediately after the wash. Hence to maintain that texture I prefer to towel dry my hair, and doing so detangles it as well.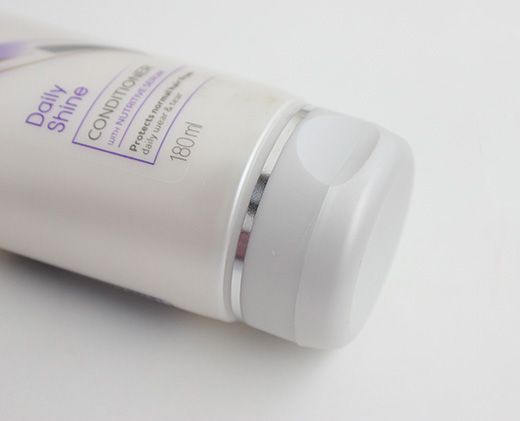 As per the instruction given at the back of the tube, this conditioner can be used daily, which I think is an advantage in this sweltering weather. As I go for a morning walk, my hair becomes sweaty and sticky so I was in the need of such a hair combo that could clean my hair daily without imparting the negatives of never ending chemical ingredient list.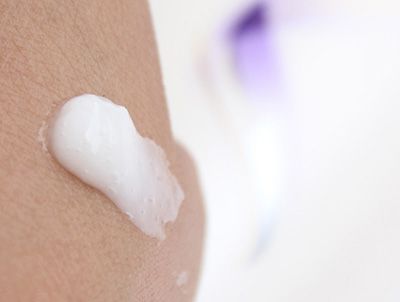 What I like about 'Dove Hair Therapy Daily Shine Conditioner'
– It controls frizz to an extent.
– It does not weigh down my hair.
– Fruity fragrances that overcomes the sweaty hair odor.
– It can be used daily along with the daily shine shampoo which is huge positive is this sweltering weather.
– It makes hair softer and tangle free.
What I do not like about 'Dove Hair Therapy Daily Shine Conditioner'
– It does not come in an entirely spill-proof packaging.
– It does not bring significant improvement in protecting hair from split ends or daily wear & tear.
Price of 'Dove Hair Therapy Daily Shine Conditioner': INR 165 for 180 ml
Ingredients of 'Dove Hair Therapy Daily Shine Conditioner'

BABE Rating: 3.8/5
Final Word: Dove Hair Therapy Daily Shine Conditioner tames hair and detangles it. It does not weigh down the overall look of hair; rather it makes it look softer and shinier. The daily usability of this conditioner pushes it up in my preferable hair product's list for this summer. The only claim that I cannot validate about this conditioner was the protection from daily wear & tear but I do believe that overall health of hair depends more on diet and internal well bring than on external hair care products. On the whole, this is a good option to get the stickiness out of your hair in this sweaty weather.
You may also like reading these related topics
Loreal 6 Oil Nourishing Conditioner Review
L'Oreal Paris Nutri Gloss Mirror Shine Conditioner Review
Pantene Pro V Hair Fall Control Conditioner Review
Sunsilk Natural Recharge Shampoo and Conditioner Review
Matrix Opti Care Smoothing Conditioner Review