Hi Everyone,
I am a perfume person but seldom like to see any changes on the dressing drawer in that category. Firstly, because they come with so big price tag that if I continue to experimenting but ending up buying the wrong ones that would lead to a stack of redundant stuff. Secondly, I can always invest that exorbitant sum in buying 10 makeup items that would be less costly hence easy to experiment with. The Burberry weekend EDO perfume that I am reviewing today is a gift by my sister, read on to know if I would ever repurchase this scent or rather prefer buying makeup products.
What the product says
A sheer fragrance with top notes of tangerine, tree sap and Reseda plant. Delicate floral heart notes of wild rose, peach blossom, iris and hyacinth, invigorated by a subtle splash of nectarine. The low notes of cedar wood and sandalwood add depth for a relaxed and fresh scent.
My Take on 'Burberry Weekend Eau De Parfum For Women'
Burberry weekend perfume comes in a glass bottle that is round in shape. The bottle is transparent so as you have a check on the quantity left. The spray nozzle is easy to use and oozes out the exact required quantity on every push. The cap has the "Burberry" logo engraved on it, which gives it a completely classy look.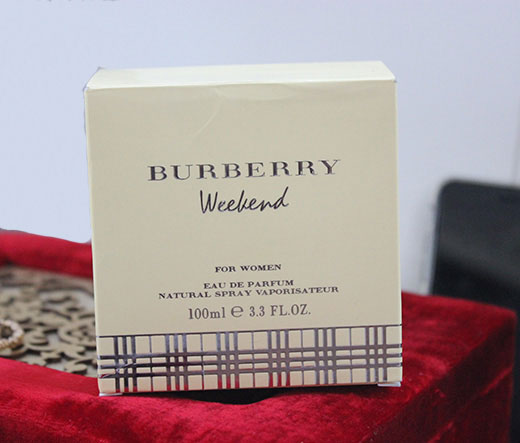 It is pale yellow in color but does not stain clothes. I have used some scents that left stubborn stains on my clothes or spoiled the jewelry. Since then I never dared to even bring it close to my ornaments. Jewelry test is not a good criterion to review a perfume, in fact taking that expensive risk in itself is not a good idea. I would say keep these fragrances away from precious jewelry and embroidery work.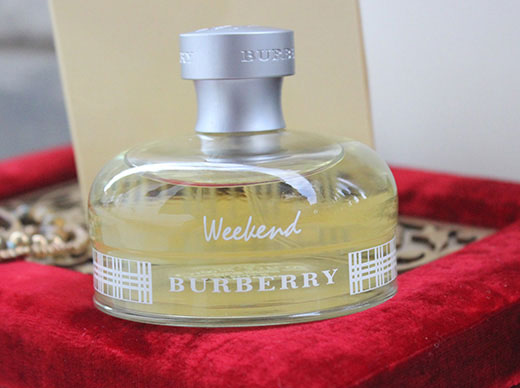 Burberry weekend gives citrus (y) fragrance in the initial 30-45 minutes. I love citrus fragrance especially when it feels like lemons. This fragrance awakens my dull senses, invigorating the energy to start afresh. When these top notes start fading floral fragrances overcome them. The aromatic floral fragrances are not that sweet but they have hint of innocence with the naughtiness of wild flowers. I love this appealing combination as it suits my personality  . The middle notes stay on for 1-2 hours. The low notes are the ones the stay for the longest and in this case they comprise of sandalwood, honey and cedar. By the time I hit my bed, I still feel myself in the company of these refreshing fragrances.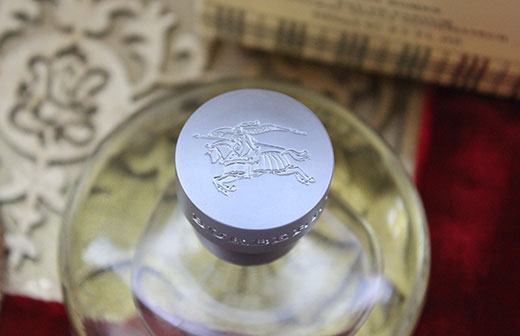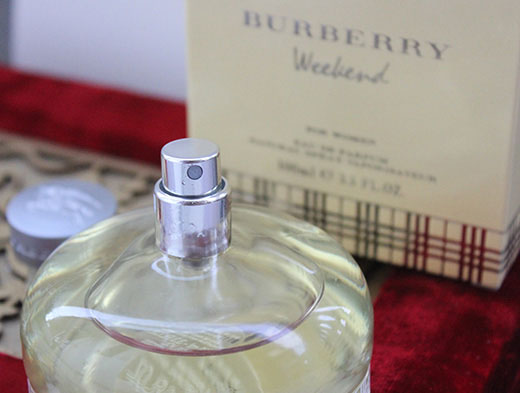 Burberry weekend EDP is an optimum all-purpose all-time perfume. I wear it to office, to shopping, to parties; in fact I would say I have become addicted to this amazing perfume. It is an appropriate option for summer season especially when you know you would be sweating. It can keep you close to people without causing any discomfort to them.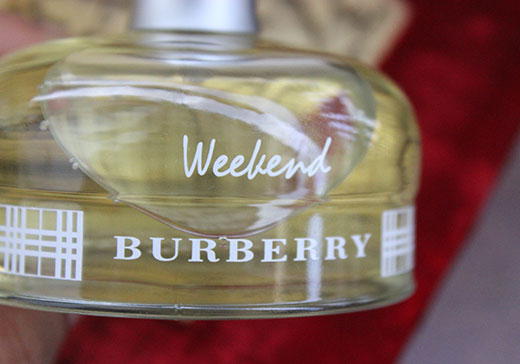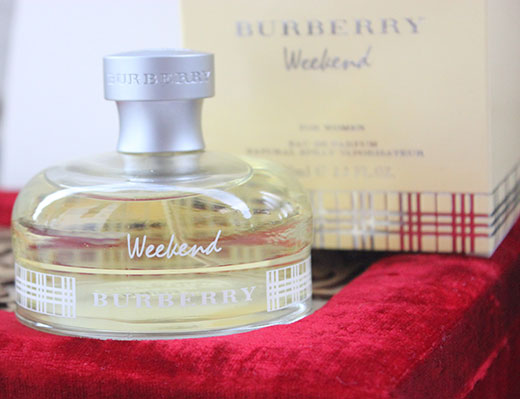 What I like about 'Burberry Weekend Eau De Parfum For Women'
– It comes in a simple and elegant packaging that makes it easy to carry.
– Heavenly fragrance that is neither too strong nor too dull.
– Long staying power, it stays on for more than 7 hours.
– Overpowers stinking sweaty smell.
– Though it is a perfect pick for every season but I would especially recommend it for summers.
What I do not like about 'Burberry Weekend Eau De Parfum For Women'
– Absolutely nothing.
Price of 'Burberry Weekend Eau De Parfum For Women': Every offline and online store has priced it differently. The range varies from INR 2300 to INR 2800.
Shelf life of 'Burberry Weekend Eau De Parfum For Women'
BABE Rating: 5/5
Final Word: Burberry weekend EDP is a perfect combination of sweet and citrus fragrances. The long staying power and the pleasant blend of scents make it a first choice for women of all ages and professions. If you like the freedom of wild flowers, and the sweetness of honey you will definitely love this EDP.
You may also like reading these related topics
Calvin Klein Eternity Moment Eau De Parfum Review
All Good Scents Evoke Eau De Parfum For Women Review