Gone are the days when people were unaware of their fitness. In this technologically driven century everybody is conscious of his/her health and wants to stay fit. These days' people opt for dieticians, personal trainers to stick to professionally monitored lifestyle. Recently, I was in conversations with one of my cousins regarding a personal dietician that she has booked to lose weight. She has to attend her best friend's marriage in February so she wants to fit in the gorgeous dress- not to mention look the best bridesmaid. Though she is satisfied with the results, her concerns are the frequent visits she has to make to dietician's clinic to validate if she is progressing as the per the plan or not, the boring meal plans that do not give her enough room to consume the food that she likes the most, and the biggest concern is that would she be able to maintain the slender figure after giving up the diet plan. Boiled vegetables and unexciting soups have become so much a part of her daily diet that now she longs even more for those mouth-watering foods that are full of unhealthy calories. Besides, opting for a dietician involves shelling out good bucks from the pocket. If you have ever been on a diet plan you would easily be able to relate to what I am saying.
Self-control is an effort that is intended to achieve a goal. If you succeed in following a less-calorie diet from Monday-Thursday only to succumb to temptation on Friday night by eating 3 slices of pizza, your failure outweighs your success. Hence, in order to be on a continuous path of success, you should have a balanced diet – in terms of calories and your personal taste. Considering my cousin's plight and dire need to lose weight, I suggested her to use bon happetee.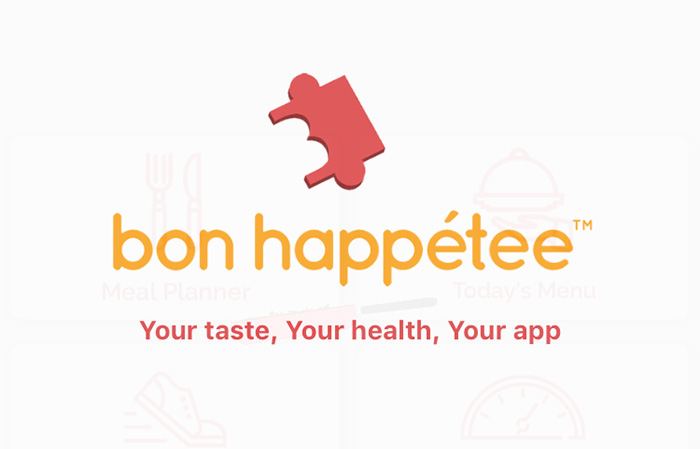 "bon happetee" is a mobile app that does a lot more than just being an aide in losing weight. I would say it is over and above the dietician anybody would get. I have been using this app for over last couple of weeks and I am amazed to see how it considers my current intake of food and changes my diet plan accordingly. Well, here some features of the app that are enticing for fitness freaks-
– This app is for food and fitness lovers because staying fit does not mean that you have to relinquish every food that you long for. If you love eating "gulabjamuns" you do not have to strike them off your food list. Instead, you can relish them and still support a healthy living.
– "bon happetee" helps in tweaking the meal plan according to your likings and your motive. The motive can be to stay fit, lose weight or maintain weight. When you log into the App it asks you for the specific motive and your eating habits. Based on your food preferences (such as Vegan, Vegetarian, Egg-Vegetarian or Non-vegetarian), BMI and other factors such as the required intake of nutrition it creates your Meal Plan. Isn't that awesome, because this is what a personal dietician would do!
– What is more intriguing is that the App keeps flashing the recommended meal plan on your screen so that you stick to the suggested diet. You can see the recommended breakfast, lunch and dinner that are as per the target you wish to achieve. I really appreciate this feature as it always reminds me of food I need to adhere to stay fit. No matter how much money you pay to the personal dietician, you would still not get this extreme help from her.
– Well, the dietician's job is over when she hands over the diet chart to you but "bon happetee" goes over and above a mere diet chart. You are asked to feed in each and everything you have consumed the entire day, and it correlates what you have consumed to what you should have been consuming. It compares both and adjusts the diet plan accordingly. Again a splendid feature! Somebody is keeping a balance between my wants and needs.
– While logging the meal, it asks for the food you have consumed and the quantity taken, and on the basis of that gives you a meal score. For example, when I had two ladles of aloo Matar and 2 paranthas in breakfast my meal score was 8/10, which is considered quite good. And on the same day, when I had 2 slices of veg pizza along with a hot cup of mocha my meal score dropped to 6/10. The best thing about this app is that it gives an option to the fix the meal plan. Just click on 'Fix it' and you will see the feedback. And, by clicking on 'Fix My Meal', you will get a revised meal plan to compensate for the extra calories consumed. Isn't that amazing! Even after I had consumed my favorite pizza there was scope to get back on track. Now, you see what I meant when I said you can stay fit but not at the cost of giving up on your favorite foods.
– The app also allows you to track the progress over the course of time. This is really a good motivator and worked well for me. I ate a lot in last few days (thanks to the Christmas parties) and that took a toll on my progress. The best part is because I have the off-tracked facts in front of me I can easily go back on-track and control my diet. This App has adjusted my diet plan accordingly and I am soon hoping to be back on a well-maintained diet.
– The app is based on data analysis, so on the basis of the consumed food you feed in the app it calculates what all nutrients your body has got. Again, it adjusts the meal plan depending on what you have consumed more against what you should have been consuming.
– The app is available in both android and IOS versions. Hence, staying fit and indulging in your favorite food can be guilt-free now.
Personally, I find "bon happetee" as an ideal helper to my motive of staying fit and healthy. I do not prefer eliminating my favorite foods from the diet and neither do I restrain myself from giving in to my cravings. I believe we all get life once so should be living it as per own rules but definitely not at the cost of health. "bon happetee" suffices to my mantra as it helps me in indulging in my favorite food guilt free while maintaining the fitness. What more, the app also allows me to share the menu with my friends! So why think more – download the app and " Stay Healthy, Stay Happy".