Hello my beautiful friends
Today I am going to review about my life savior tea tree oil. I don't know what's happening with my skin since last month but my skin is breaking out badly, everyday a new break out. It feels like it's a breakout season not spring. I had football size breakouts on my forehead and cheek just before my birthday and job interview. People having same acne issue will definitely understand my pain. Anyhow, I purchased this product because my sister was bugging me to buy essential oils for her. Initially when I bought it, I used it on and off but since last couple of weeks I have started using it regularly. And now, I am totally obsessed with this. Let's talk about the uses of tea tree oil, and see how it has worked for me.
What the product says:
Essential oils are naturally extracted from plants to induce relaxation,
Increase energy and reduce the effect of stress.
Seeks overall balance of mind, body and soul.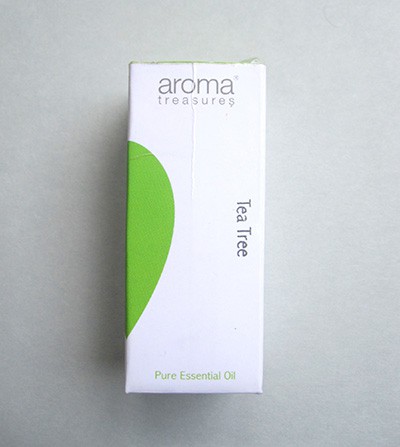 My Take on 'Aroma Treasures Tea Tree Pure Essential Oil'
The product comes in a dark colored glass bottle that looks like a medicine bottle. The cap of the bottle is white; it fixes tightly on the bottle making it spill-proof and travel friendly. The dark color glass protects it from direct sunlight and external heat damage. The opening is covered with a plastic lid, which has small hole at the center. To use this product turn the bottle upside down and the oil drops come out from the hole. The small passage ensures that you get the exact required quantity, and thus avoids wastage of product.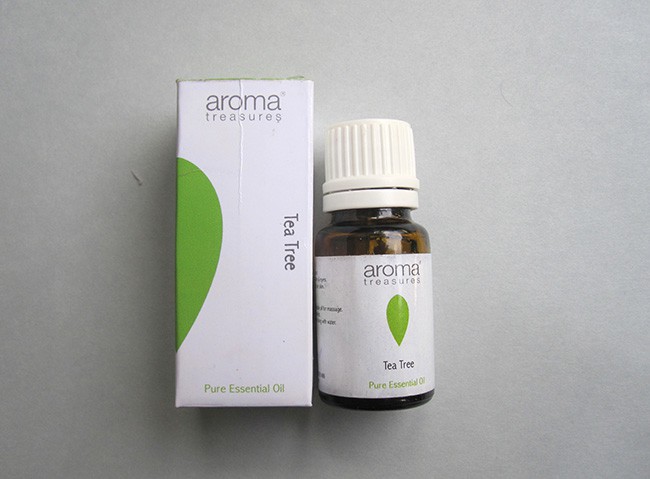 The essential oil is transparent just like water but has slightly higher viscosity. It has strong tea tree fragrance, which might be bothersome for people with sensitive noses. The good thing is the fragrance dissipates after couple of minutes of application. If you stand it for that long you will be good to reap the benefits of this wonder oil.
The consistency of this product is totally opposite from what I expected; I thought it will be like any other coconut or olive oil but it is a lot similar to water. It gets absorbed into the skin within seconds. I do not have to keep rubbing it to help it penetrate into the skin. Plus, once absorbed it does not leave the skin oily or greasy. Instead, after application it gives a cooling sensation that I like the most as it will be huge relief in summers.
It does not cause any burning sensation. But if you experience itching or burning I would suggest stopping the use immediately and washing face. You can try diluting the oil by mixing it with coconut or olive oil but it might as well not give expected result. My sister used it in diluted form but then also got her face burned. So, it is best to do the patch test before applying it on face.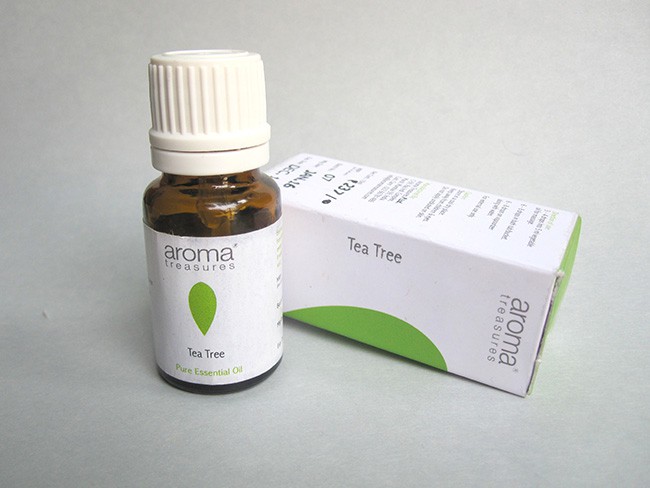 The best thing about essential oil is- they go deep into the skin not just remain on the top most layer. This tea tree essential oil gets into the skin, treats it from inside and finish the infection, killing the problem causing bacteria. Though, it has not reduced my previous acne scars, it has given a nice healthy glow to skin from inside. However, as far as pore size is concerned I do not see any considerable improvement. And, regarding fine lines I cannot comment as I do not have them yet. For the price, this product is quite affordable given the fact that essential oils are usually costly. This 10 ml bottle lasts for quite a good amount of time.
How To Use Tea Tree Essential Oil
1) Right now, I am directly using it on pimples. I take 2-3 drops of oil and apply it on acne. It has not caused any burns till date. The best part is that it reduces the redness and the size of the acne after I intermittently apply it 3-4 hours times the day, and especially before going to bed. After following the regime regularly, I see great improvement in acne disappearance. It just leaves a small mark behind, and that also disappears after a few days. I am so happy with the results. The big football size acne takes at least 3-4 days to vanish. The good thing is that it kills the acne without over drying the skin. It is a natural remedy, so I don't mind about the time it is taking to cure acne.
2) I use it while taking face steam. Doing so keeps bacteria at bay and saves the skin from infections. Add 2–3 drops of tea tree oil in warm water, and give adequate steam to face. Tea tree oil is anti-bacterial; it gets into the skin and cleanses it thoroughly.
3) You can also add a few drops of tea tree to your regular night cream. It relieves stress, gives a good night sleep and keeps the skin acne free.
4) You can also use it in homemade face packs. I do this 2 times a week: mix few drops of tea tree oil in multani mitti, and evenly apply the pack on face and neck. It keeps my skin oil free, reduces redness and size and cleanses it.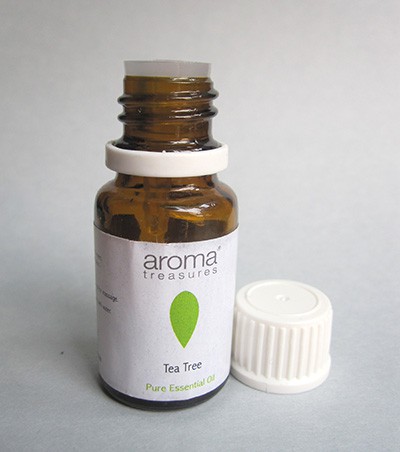 What I like about 'Aroma Treasures Tea Tree Pure Essential Oil'
– It is non-greasy oil.
– It helps reduce the size and redness of acne.
– It treats bacterial infections.
– It cleanses skin thoroughly.
– It is totally natural.
– It is worth every penny.
What I do not like about 'Aroma Treasures Tea Tree Pure Essential Oil'
– It does not reduce pore size.
– It is not easily available offline.
– It does not provide speedy disappearance of previous acne scars.
Price of 'Aroma Treasures Tea Tree Pure Essential Oil': Rs 237 for 10ml (10 ml last long)
BABE Rating: 4.5/5
Final Word: I really like this product, the first and foremost reason is that it treats acne. This product is worth every penny spent on it. It has a water based formula that makes it go deep into the skin and treat it from inside. This product has changed my life and I am definitely going to repurchase it. I am even thinking to stock it up. It has multiple uses, and can be used in different ways according to convenience.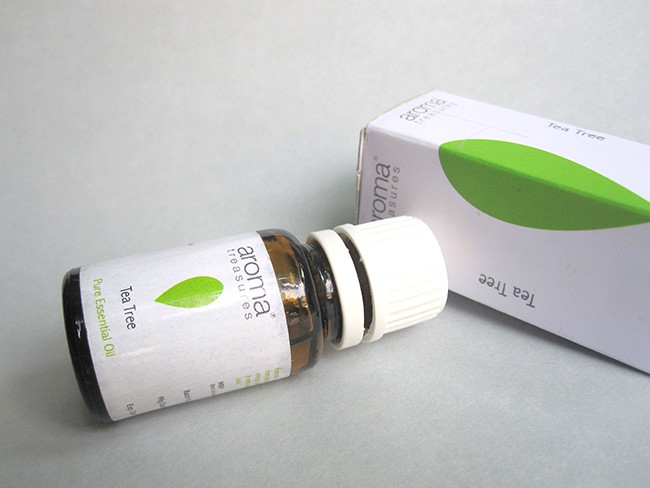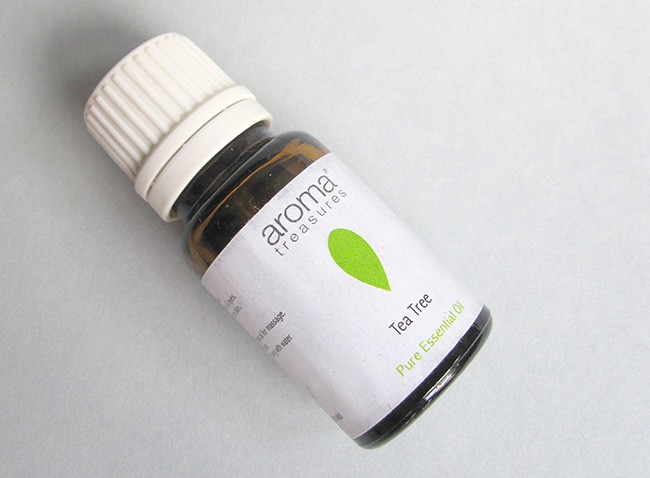 Author: Veena Singh