'Wedding' is one of the most important days in a girl's life and no matter what; she takes immense care of all things to be the perfect on that auspicious day. Right from the pre-wedding day till the post wedding rituals, utmost care is taken that all things are done perfectly. We all know that shopping is a major concern when it comes to the wedding. A huge list is prepared initially so that nothing gets missed out. Among all, lingerie is also an important one. Any bride-to-be would love to wear the best she can get when it comes to lingerie. Her picks might catch attention instantly as the wedding collections on lingerie have too many variants and all of them are as good as the other. A lot of experiments have been done on this set of intimate wears that a lot of them are available online these days.One might be hesitant to choose what they want when they purchase it from offline stores directly. This is when online stores help you out. There are plenty of online outlets that provide excellent collections on wedding lingerie that you will surely love to have. Today, I am sharing with you 10 best online stores to buy lingerie for the to-be bride, and that too at affordable prices.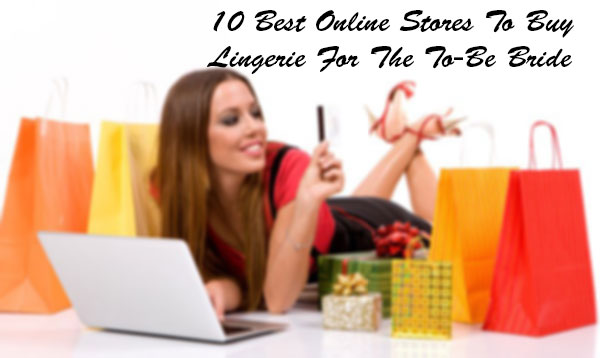 Zivame
Zivame is one of the best online stores that sell the best branded and quality products on lingerie. The store owns a bridal category where they showcase all latest arrivals on bridal collections. A lot of new bras and panties are available at Zivame that are sure to impress you on a glance.
Bridal collections are more beautifully laced and are also available in various colors and materials as well. Satin and lace bras and panties are always in high demand when it comes to brides, sources claim.
Prettysecrets
Prettysecrets is yet another online store from where you can buy amazing bridal collections on lingerie. The site gives you ample of choices on bras, panties, babydolls and lots more which you can buy at the most reasonable rates online. Lace thongs and extreme lift push up bras can be a good choice for the to-be brides. Prettysecrets too have numerous choices when it comes to collections and also on sizes and colors.
Clovia
Clovia which was earlier known as MoodsOfCloe has its bridal nightwear collections, showcasing the best products available in the market at the cheapest rates. Wedding collections do not purely infer on those products that are to be worn on the D-Day. Instead, they have varied collections on products that can make you all the more beautiful inside even after the wedding. Lit up the romance by wearing the best bridal collections from Clovia.
Jabong
While Zivame, Prettysecrets and Clovia confine themselves solely selling lingerie products, there are yet other stores that also sell them apart from other products. Jabong, which is meant to be the one-stop destination for online fashion has featured the best collections of lingerie from all the best brands. Explore the new arrivals and choose your pick from the numerous collections. Floral collections and multiway bras are much impressive among their collections.
Cilory
Cilory is yet another wonderful online store where you can buy amazing bridal lingerie. They have a lot of brands linked up, providing a lot of new collections in various categories. Their bridal collections provide a lot of varieties including the bra dress up, delicate floral bra, luxury bra, multifunctional bra, lace glamor bra, reveal dress up bra and lots more.
Amazon
Amazon is truly a one-stop destination for all your needs. This online store has anything from your basic needs to luxurious ones, providing all products at affordable rates. Amazon provides ample choices when it comes to lingerie. They feature bras and panties from top-notch brands including Amante, Enamor, Bwitch and lots more.
Shoppers Stop
Shoppers Stop is more like a true fashion destination when it comes to women. Anything fashionable in apparels including the lingerie is just a few clicks away from you at Shoppers Stop. Their collection on strapless multiway bras, nonpadded lace bras, push up bras etc is simply awesome. A to-be bride will definitely love to try out many of these collections featured at Shoppers Stop.
Thats Personal
Thats Personal is an online store from where you can buy sex products & sex toys. They also have an amazing collection of lingerie as well. They showcase products exported from countries including India, China and the US. Buy fantasy lingerie sets from this store which you have been planning for your D-Day.
Flipkart
Flipkart has wedding lingerie sets from Urbaano at their store at a very affordable rate. Buy a pack of their pairs for an unbeatable discount. Apart from them, the store also has huge collections on various varieties from various brands. Their casual lingerie set is also worth the price to make you look stunning on your wedding day.
Ali Express
Ali Express is an International site that ships their products to India as well. So, all their collections will have an International style and design. You might get a chance to buy those fancy bras and panties and lingerie sets that you might have watched worn by International celebrities or in movies.
So, all those to-be brides out there explore these online stores for your dream lingerie collections which you have been longing to buy.
You may also like reading these related topics
Indian Wedding Outfits Based On Modern Wedding Themes
Now Indian Brides Can Also Opt For Wedding Guest Books To Relive Precious Moments… For Eternity !