The Obagi Nu-Derm System: Defers Ageing And Rejuvenates Skin.
So are you too scared to face the truth? Or more like face the mirror? Aging is inevitable, but to age gracefully is commendable. How then should you get rid of premature signs of aging then? The harsh elements present in the environment today is forcing your skin to age faster than it should. And is it good? You tell. Would you like those fine lines and wrinkles in the mirror? The overexposure to dust, smoke, pollution has a major role to play in this aging too. It is not just heredity, believe me your mom never got her wrinkles as early as you're getting them. And maybe your kids will show signs of wrinkles in their early twenties. The capability of your skin to produce new cells reduces as the skin ages. And that is exactly why grandma had such wrinkles.
But would you not like your skin to remain youthful and radiant even in your forties? No, that's not a farfetched dream. Actresses have skin skin like that and you can too. The Obagi NuDerm System is even clinically proven to handle the issue exceptionally well. It not only helps prevent skin aging but also provides enough hydration to keep your skin feeling supple and soft at all times. A secret to good looking skin is to keep it hydrated inside out. Obagi NuDerm system not just helps prevent skin aging but does it in a natural manner too. So now that sure is a win win situation for all.
So how exactly does it work? It was mainly first formulated to eliminate acne while at the same time also help boost the micro connective tissue and fibres of your skin. It is therefore highly effective in speeding up the process of regenerating new skin cells, thereby helping your skin appear younger and radiant. However, to be sure to see evident results, you must be very strict with your skin care regimen, which though multi stage is easy to follow once inculcated in your daily habits. Just remain dedicated to using the product in the specified time
period and evident results will follow.

Also, the Obagi – C Rx is formulated for skin regeneration too. Most Obagi product lines are concentrated in help perform this action in the least. They are formulated such that they penetrate beneath the epidermis into the lower substrate and thereby treating and effecting at a cellular level. It treats from within, so yes it won't be wrong to say that it is not just skin deep but perhaps more than that. It is not without a reason heralded as one of the most effective skin care products out there in the spectrum. I would perhaps call it the most effective too in terms of drastic results evident in short time periods. You do not have to worry of your age, results will be evident, young or old holds little importance.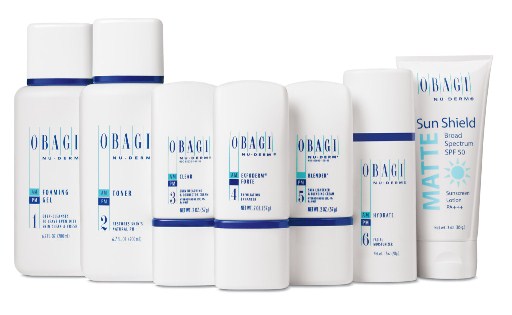 The product lines by Obagi, under the labels Obagi NuDerm and Obagi-C Rx are mostly the more raved products. Their reviews alone, indeed, show an effective paved path they have taken to success. They have perhaps become an entire new generation of skin products dedicated in providing best results in the industry and they help treat skin at the cellular level so that the effects are not only evident but also long lived. You don't want to spend on products that leave your skin the same old dull once you stop using them, do you? They are formulated using mild chemicals, but highly effective at that and those that exfoliate the skin deeply. Obagi makes sure that it's products are safe to use, and trust me there is no regret in trying it.
You may also like reading these related topics
Olay Regenerist Wrinkle Revolution Complex Moisture Review
Olay Total Effects 7 in one Anti-Ageing Day Cream Review
Olay total effects 7-in-1 anti ageing eye cream review